SHOP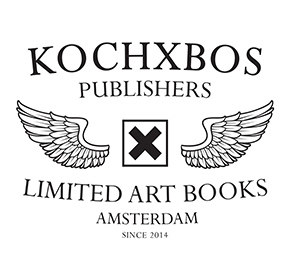 KochxBos Gallery and Publishers
Eerste Anjeliersdwarsstraat 36
1015 NR Amsterdam
+31(0)206814567
Doing something nice for the city of Amsterdam. With that thought we started fifteen years ago. We wanted a vibrant cultural place. To share ideas and to bring people together. Discuss, inspire, learn from each other, the life! In 2005 we opened the doors of the KochxBos Gallery in the Jordaan, a place for contemporary underground art. The artists we exhibit are from everywhere. The Netherlands of course, but also France, Japan, Canada...
We love working together with 'our' artists. As they inspire us, we inspire them as well. And with success. What began ten years ago as 'underground', is still called the same, but has been in the spotlight more and more, certainly internationally.
Why a publishing house?
It's time to bundle the work of 'our' artists. We bring them into the world, so anyone can experience their oeuvres. Furthermore, we as graphic designers simply love beautiful, well-kept books. The feel of paper, the smell of the ink... Printing a good book is also an art.
All books are published in two versions, one regular and one special edition. Numbered and signed by the artist. With a limited edition work of art, made especially for this publication.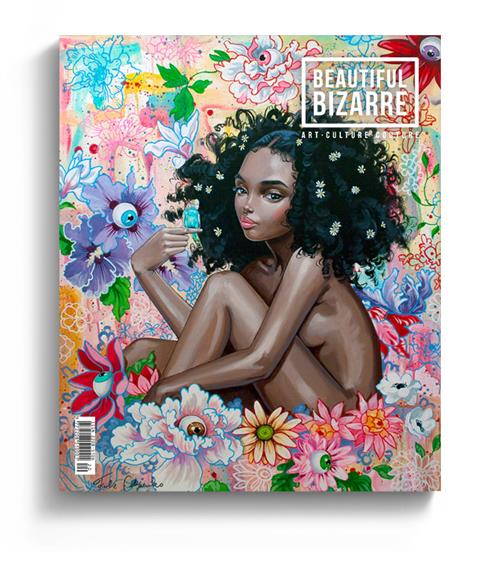 Beautiful Bizarre Magazine
Issue 34
Inside Issue 34
Lookbook: Stunning full page reproductions of Martine Johanna's paintings

Exclusive In-Depth Interviews: Julie Filipenko [cover artist], Ivan Alifan, Michele Wilk, Alessandro Siciodr
Path to Creation: Andi Soto takes us through the creation process of one of her incredible ink and watercolour mixed media artworks, from ideation to completion
Feature Articles: Rafael Silveira, Kristin Kwan, Jean Pierre Arboleda, Bill Mayer, Scott Breton, Joseph Lorusso, Jeeyoung Lee
Snapshot Q&A: Kelsey Bowen, Stephanie Kilgast [Sculpture Award Finalist, 2019 Beautiful Bizarre Art Prize], Paul Neberra [Honourable Mention, 2020 Beautiful Bizarre Art Prize], Daria Aksenova, Feral Plains, Sharon England all respond to the same 4 questions which delve into their artistic practice.
What barriers have you had to overcome to get to where you are as an artist today?
Is there a piece of feedback (positive or negative) that you've received that continues to drive you?
In the midst of the Covid-19 pandemic, has your creative profession felt like a blessing or a burden [and why]?
How do you develop your imagination as an artist?
Curators Wishlist: Ken Harmen, Owner & Director of Hashimoto Contemporary and Spoke Art galleries, shares what he would like to add to his personal collection
Artist + Artist: Artist couple, Erika Sanada + Calvin Ma share an intimate conversation about life, love and creating together.
17.00 EUR
---


An Amsterdam printing and bindery
Making choices. Are you going to have the books produced 'cheap' across the border or are you going to get started with 'heart and soul'? With a printing company where you have direct contact with all those involved in the book? Where you can stand together next to the press to blend the most brilliant colors to get the best results? Yes! (4x). And as we go for quality, we choose a cover, thicker than normal, the finest smooth matte paper, the color of the reading ribbons, the finishing, all in close contact with professionals. The ultra-ultra-fine lines and intense colors of the works of Ciou also ask for the finest grid, the highest print quality and control. An additional reason for choosing a local printer is that we could be on top of things. From the early preparations to final printing. To create something really special together.