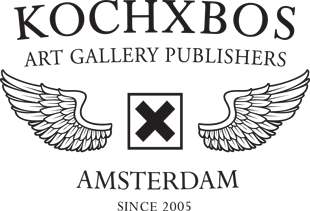 SHIPPING AND CANCELLATION POLICY
Our Shipping and Delivery Policy forms part of and must be read in conjunction with, website Terms and Conditions. We reserve the right to change this Shipping and Delivery Policy at any time.
We (www.kochxbos.com) know that your order arriving on time is important. We take an order and do our utter best to deliver as soon as possible. Do in mind that we are a small team of human beings that take care of your art, book or other item, and that we only have two hands. So we hope on your understanding when there is a delay. We ship since 2014 and we have had no complaints yet because we like to solve every problem that may happen due to our shipping. Contact us please when you have any problems: gallery@kochxbos.com or +31206814567. (E. Koch or H. Bos)
All orders are shipped through our courier partners.
In some cases, shipping may take longer based on your location, which will be communicated to the buyer if we too have notifications from our shipper. Generally, items ship as soon as possible.
Customs taxes according to the nature of each country shall be borne by the customer and he must be aware of its details according to his country.
When your package is scanned by our shipping provider, it automatically sends you an email with the tracking number included. Please refer to your tracking information to get an estimate on when you will receive your item(s).
If you have any other questions, please contact us at gallery@kochxbos.com
Standard shipping shall apply to all the products.
• ORDER CANCEL:
Please accept our apologies, occasionally we have to cancel orders for some reasons:
Product unavailability: We try to get as much choice as possible onto our website, and occasionally we have to cancel orders when the ordered product is unavailable.
Customer cancellation: If you have requested to cancel part or all of your order.
UNETHICAL ORDER & CANCELLATION POLICY
• In case of any product purchase made through unethical means; by taking advantage of a technical glitch; or by misusing/ the offer terms/guidelines/codes - the particular order/s will be canceled whatsoever and https://www.kochxbos.com will not be liable to pay any refund to you in all such cases.
© KochxBos Gallery Amsterdam / KochxBos Studio Amsterdam / KochxBos Publishers Amsterdam.