SHOP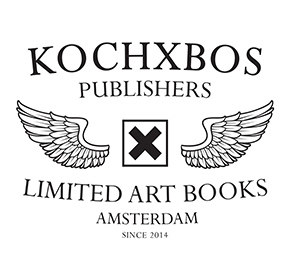 KochxBos Gallery and Publishers
Eerste Anjeliersdwarsstraat 36
1015 NR Amsterdam
+31(0)206814567
Doing something nice for the city of Amsterdam. With that thought we started fifteen years ago. We wanted a vibrant cultural place. To share ideas and to bring people together. Discuss, inspire, learn from each other, the life! In 2005 we opened the doors of the KochxBos Gallery in the Jordaan, a place for contemporary underground art. The artists we exhibit are from everywhere. The Netherlands of course, but also France, Japan, Canada...
We love working together with 'our' artists. As they inspire us, we inspire them as well. And with success. What began ten years ago as 'underground', is still called the same, but has been in the spotlight more and more, certainly internationally.
Why a publishing house?
It's time to bundle the work of 'our' artists. We bring them into the world, so anyone can experience their oeuvres. Furthermore, we as graphic designers simply love beautiful, well-kept books. The feel of paper, the smell of the ink... Printing a good book is also an art.
All books are published in two versions, one regular and one special edition. Numbered and signed by the artist. With a limited edition work of art, made especially for this publication.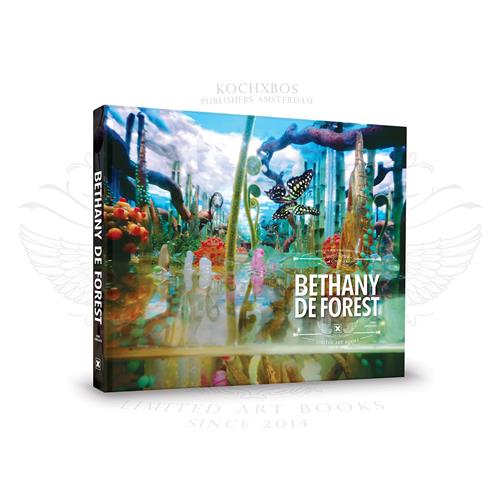 Bethany de Forest
Funky Landscapes
'25 years of pinhole photography'. Released Saturday June 4, 2016. The ultimate De Forest book: this beautifully crafted hardcover edition by KochxBos Designers & Publishers is a record of her full body of work, containing 144 pages of mind-blowing art. Bethany de Forest's objective is to show a "realistic" and slight absurdist imaginary world that is all handmade, no Photoshop or digital software used. Creating the illusion that what we see is life-size, an actual place we can visit. It helps that the art is printed on the finest paper with vibrant colors. De Forest photographs with a pinhole camera, a box without a lens or diaphragm, just a small round hole the size of the tip of a pin. Combined with her models, the effect is amazing. These miniature worlds seem almost lifelike, and there's always a twist, which is what makes De Forest's work so fascinating. ISBN 978-90-821944-4-9
It's like being in Alice's Wonderland, surrounded by lifesize insects and giant flowers. Look closer and you'll discover all kinds of surprises: pollard willows made of rhubarb stalks, sugar cubes masquerading as marble blocks, and raw ham as marbled stone in a cathedral with stained-meat windows. De Forest optically manipulates these materials by adjusting the light and the angle. At the same time the world she creates in her landscapes, cities and palaces seems kind of natural. Butterflies flutter about, cars race past, not to mention the more bizarre scenes. The absurd situations and the profusion of visual imagery entices you deep into De Forest's world and tempts you to explore ever further.
| Marybeth James
"Bethany's photos are too surreal and fantastic to be real."
***** (5 stars)
| Arjen van Veelen
"Her work is stunning, I can not believe my eyes!"
***** (5 stars)
35.00 EUR
---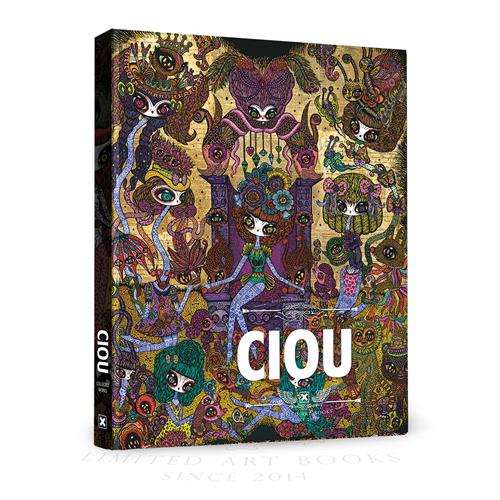 Ciou
Collected works book
Released Saturday May 10, 2014. The ultimate Ciou book: this beautifully crafted hardcover edition by KochxBos Designers & Publishers is a record of her full body of work, containing 144 pages of mind-blowing art. The beautiful and stunning art by Ciou finally collected in one beautiful book! Pages full of vibrant and illuminating art by this Internationally celebrated French artist. With an introduction by Fanny Giniès and many kind words by befriended artists. You will be enjoying this book from first to last page - finding out about her backgrounds - the ins and outs so that in the end you will be looking back at a spectacular art trip. And next time again. This limited art book was carefully made by one of the best printers and binders in The Netherlands. Please let us know how you enjoyed it. ISBN 978-90-821944-0-1
| GILLES 14-10-2016 12:03
désolée j écris en français j ai découvert cet artiste et desuite j ai aimé son travail. Le livre est une oeuvre d'art de magnifiques planches un monde merveilleux empli de petits animaux et de nature ces dessins sont complexes et magnifiquement réalisés
Le livre est une merveille que tous les passionnés d'art devrait avoir.
***** (5 stars)

| Cookielie 02-04-2015 23:15
Very beautiful book.
***** (5 stars)

| Salomé SANJUAN 02-04-2015 15:45
A really beautiful book.
***** (5 stars)

| S. moors 02-04-2015 11:55
LOVEEEEEEEE the book, really nice to look at it and dream away :-)
keep up the good work
**** (4 stars)

| Marielle van Gent 30-05-2014 17:30
Prachtig boek. Mooie kleuren, stevige kaft en goed gebonden. Echt met veel liefde en voor de eeuwigheid gemaakt, net als Ciou's werk;-)
***** (5 stars)

| Malka 29-05-2014 01:32
This book is soooo beautiful :) and it arrived on time and in perfect condition! LOVE CIOU
***** (5 stars)

| Maarten 24-05-2014 17:33
Good work! Very nice book!
***** (5 stars)

| jotamisa@hotmail.com 19-05-2014 21:09
Fantastic!!! I love it , i love you
***** (5 stars)

| George Alberigi 19-05-2014 16:01
Beautiful book and fast delivery. Thank you.
***** (5 stars)

| Marc Gaddis 01-05-2014 00:24
The book looks perfect !wow thank you for your art Ciou.
***** (5 stars)

Add your review 5 stars based on 10 reviews
35.00 EUR
---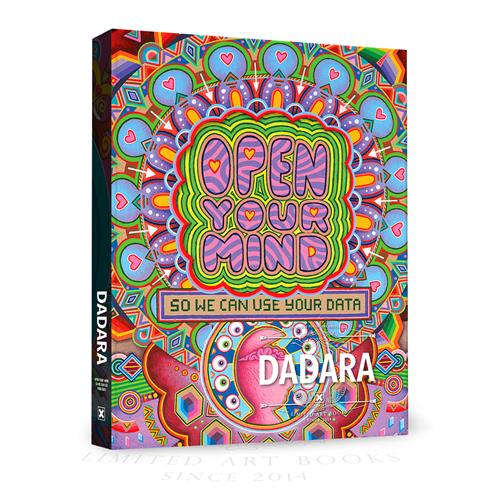 Dadara
Open Your Mind - So we can use...
Released Saturday March 10, 2018. The ultimate Dadara book: this beautifully crafted hardcover edition by KochxBos Designers & Publishers is a record of his full body of work, containing 196 pages of mind-blowing art.
"Initially making his mark with groundbreaking designs for the international dance scene in the Nineties, it didn't take long for Dadara to be embraced by the high-brow art world as an artist to be reckoned with. Since then, his career, spanning three decades of creative excitement and adventure, has turned out to be one of the coolest underground art trips imaginable..."
Article number: ISBN 978-90-821944-5-6
| Anonimous 11/15/2019 05:32 AM
Book of the books. This is ART !!
| Man with a plan 11/15/2019 5:31 AM
This book rocks !!!
| Amiot jc 7/22/2018 4:00 PM
Perfect !!!
| Jorrit 21-07-2018 23:07
What a wonderful book to leaf through! Feast of recognition, all the work I know about Dadara to some extent is reflected in this book. From long ago to the present ... A nice overview of the versatile work of this artist that both fans and novice enthusiasts will enjoy!
| Ronald 21-07-2018 18:42
Beautifully executed book with beautiful color images of Dadara's work over the years. And each book is also provided with a personal drawing by the grandmaster. Super deluxe!
| Joe Dutch 21-07-2018 18:41
Excellent and elaborate overview of the man's work, in beautiful quality prints and paper. I recommend this book to everybody who likes Dadara.

| Barry 03/26/2018 13:32
Very nice book with original (hand) drawing, nice!

| Guido Urka 03/19/2018 2:41 PM
Super nice book ... Super happy with it ....

| Anja D. 08/09/2017 13:41
Par hasard, je suis venu ici et a trouvé le grand livre de Dadara. Je suis fan depuis que je voyais son travail sur l'homme brûlant. Wow, you me rejouis de ce livre. Le livre signé bien sûr :) Salutations! Anja D.

| Peter Glasshouse 08/09/2017 1:04 PM
Ha! It appears that i am the first to - by accident - find the Dadara book here. As big fan of his work (Burning Man was amazing !!) i ordered it right away. Looking forward to the book. I may have forgotten all about it in February, but what a great surprise that will be! Thanks in advance. PG

Add your review 4.4 stars based on 10 reviews

45.00 EUR
---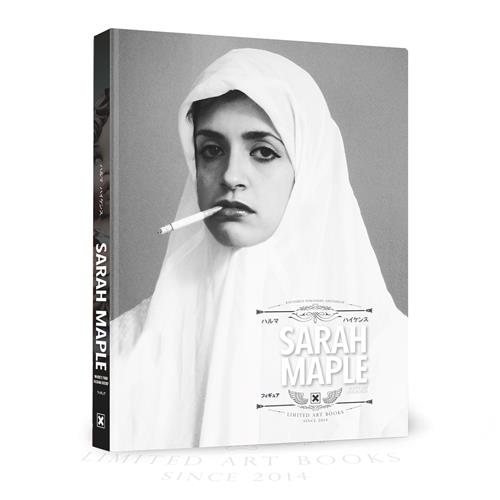 Sarah Maple
You could have done this
Released in the KochxBos Gallery Amsterdam: the ultimate Maple book: this beautifully crafted hardcover edition by KochxBos Designers & Publishers is a record of her full body of work, containing 144 pages of mind-blowing art. With articles from Beverley Knowles (curator and writer), Margaret Harrison (feminist artist) and Anne Swartz (professor Art History). An overview of Sarah's best artworks: video installations, performances, oilpaintings, photographs an much more... Hardcover band, 144 pages full colour art book and free sticker sheet :-) Article number: ISBN 978-90-821944-0-1 Delivery time: a.s.a.p. (2 - 8 days) Please consider we are a small team of real humans.
| Sara Jackson 01-03-2016 21:00
The book is just lovely and exactly what any fan of an artist could want. Sarah Maple is my absolute favorite and her work really speaks to me as a female artist. Very inspiring. The book is in perfect condition and shipped quickly considering I live in the U.S. #SarahMaple #Feminism
**** (5 stars)

| Adel 07-08-2015 13:03
Beautiful book, great collection of Sarah Maple's art, amazing quality and design - I am in love. The publishers were incredibly thoughtful, the delivery fast. Thank you!
**** (5 stars)

| Tyler 08-04-2015 23:33
This is a great book! It is put together very well and offers a comprehensive collection of Sarah's fantastic work. Definitely worth it for anyone who is a fan of her art. An added bonus is watching people's reactions as they look through her work for the first time.
**** (5 stars)

| Sophie 05-04-2015 18:33
Fantastic book - beautiful quality, strong statements and though provoking discussion points - perfect book!
**** (5 stars)

| henno 02-04-2015 09:56
Fantastic item - nice contact - fast delivery!
So they deserve *****.
Gracias!
**** (5 stars)

| Cor Keuning 01-04-2015 18:40
Eindelijk een boek met de collected works 2006 - 2015. Mooi vormgegeven boek - een kunstwerk op zich - zoals we van Kochxbos gewend zijn.
**** (5 stars)

| George Redgrave 01-04-2015 14:22
It is a real delight to have so much of Sarah Maple's work gathered together in this book. The combination of painting and photography underscoring her view of women in society is striking. Reference is also made to her performance work which, whilst a printed book cannot do justice to that, it is, nevertheless , well documented.
**** (5 stars)

| duquesne 01-04-2015 13:19
it's ok
*** (4 stars)

| Helen 01-04-2015 13:17
Thank you for the book - receiving it made me very happy, and I love that it was signed. Highly recommend Sarah Maple and her book to everyone.
**** (5 stars)

Add your review 5 stars based on 9 reviews
35.00 EUR
---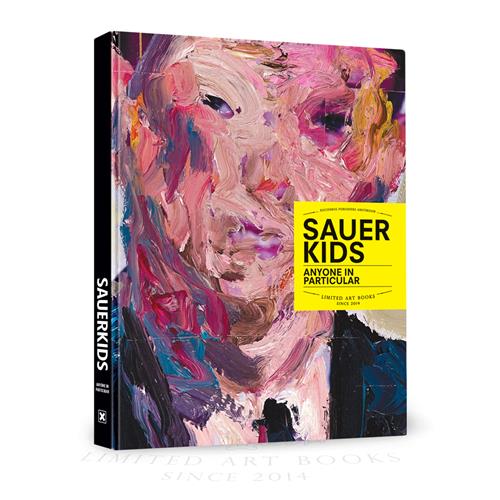 Sauerkids
Sauerkids book hardcover
Sauerkids - Anyone in Particlar We are very proud to present 'Anyone in Particular' from Sauerkids. The book gives an overview of the most recent works of Sauerkids. 144 pages thick, full vibrant colours, hard cover. With a preface by Peter Thaler & Lars Denicke (Pictoplasma) and the feature article by Dirk van Ginkel. There is also a limited edition of 45 books. The limited edition comes with a gyclee print specialy made for 'Anyone in Particular'. ISBN/EAN: 978-90-821944-2-5
| Silio Durt 02-04-2015 14:53
Really nice book. Awesome work. Really inspiring.
And everything was perfect for the order, delivering, packaging etc...
Thank you a lot.
Silio
***** (5 stars)
5 stars based on 1 reviews
35.00 EUR
---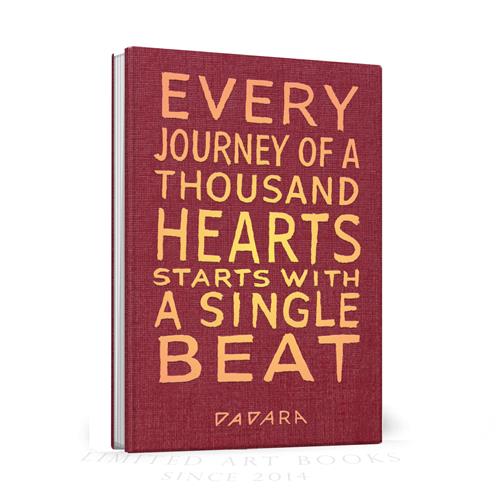 Dadara
Every Journey zigzag book
Almost sold out! A fantastic limited edition. It is a huge folded zigzag book with a continuing drawing the artist made during his travel in Japan. Edition of 100, signed and numbered by Dadara 280 x 18 cm long drawing, Zig zag folded to 12 x 18 cm. Bordeaux linen cover with gold foil press. Paper Muncken Lynx Rough 200 grams. Check the info page for detailed images.
100.00 EUR
---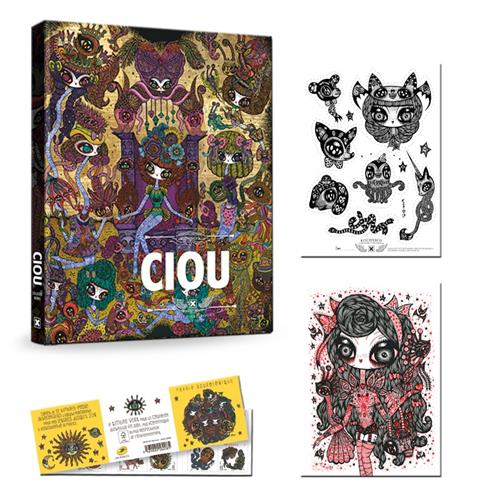 Ciou
Art Book Limited edition
Ciou Collected Works - limited edition of 100. The book comes with the gyclee 'Lady Circus', 17,5 x 24,5 cm // 6.9 inch x 9.6 inch, a very special stamp set 'Feerie Astrologique', stamps from 'La Poste', France and we made a very nice sticker sheet, it's included with every book. Maurice: 'Great book! Beautifully made. And the extra's that come with the Limited Edition are really worth it. Especially the Lady Circus print!' More information http://www.kochxbos-store.com/en/ Order only the book for just € 35,-
115.00 EUR
---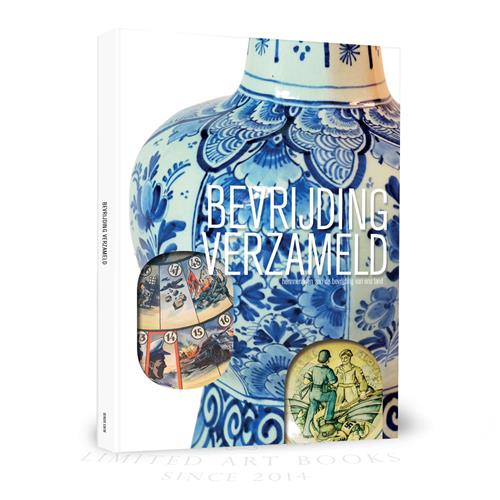 Mees Bos
Bevrijding Verzameld
[hardcover] 164 pagina's overzicht van objecten uitgegeven ter herinnering aan de bevrijding van Nederland, het einde van de oorlog. Vazen, tegels, borden, servies, kogelhulzen en een enorme collectie bijzondere parafernalia. In dit prachtig vormgegeven boek vindt u tekst en uitleg waardoor de objecten tot leven komen en een beeld geven van het verdriet, de blijdschap en overwinningsroes die deze herinneringen met zich meedragen. Het boek 'Bevrijding Verzameld' toont een deel van de collectie die geschonken is aan het Bevrijdingsmuseum Zeeland. Het boek werd uitgegeven in 2019, in het jaar dat Nederland 75 jaar bevrijding herdacht. Article number: ISBN 9789082194463
[NEDERLANDS] [ENGLISH BELOW]
Het zijn bijzondere artikelen die alle te maken hebben met de bevrijding van ons land en omvatten een tijdsspanne van het betreden van de geallieerden in Nederland in de herfst van 1944 tot aan het einde van 1945. Daartussen zit een breed scala van werken die de bevrijding in herinnering roepen.
Het zijn doorgaans siervoorwerpen, niet zelden gemaakt door huisvlijt. Zo zijn er beschilderde borden, tegeltjes met opschriften, een koehoorn met als opschrift 'Arnhem 1944', tekeningen, ook boeken (zelfs één met de handtekening van Soldaat van Oranje Erik Hazelhoff Roelfzema'), vazen en glaswerk. Maar er zijn ook gebruiksvoorwerpen zoals een zeskantige asbak gemaakt uit biscuitblikken die werden uitgeworpen.
De bedoeling was dat de opbrengst van deze asbak ten goede zou komen aan het nooit gerealiseerde Oorlogsherinneringsmuseum in Ede, zo meldt het 'Commité' aan de onderzijde. En wat te denken van een theepot in de vorm van een Sherman-tank waarbij, hoe voller de 'tank' is, het kopje van de chauff eur omhoog komt? Of van een kleurrijk wandbord dat herinnert aan september 1944 en is uitgegeven door papierfabriek Van Gelder en Zonen in Renkum? Curieus allemaal. Maar in de collectie zit veel meer. Een ets van Maarten Krabbé bijvoorbeeld, de vader van Jeroen.
Ook een wandbord dat gehangen heeft in Hotel De Wereld in Wageningen dat herinnert aan de capitulatie. Het is een unica. ''Uit de boedel van dit hotel kocht een verzamelaar dit bord. Later bood hij het de gemeente aan. Die wilde er niets voor geven. Daarop verkocht de man het aan mij.'' Nu bevindt dit Wageningse historische stuk dus in het Zeeuwse Nieuwdorp. Begonnen met bordje Hoe is die passie toch begonnen? ''Eigenlijk door mijn vrouw. Die had een bordje van de bevrijding. Dat verzamelen kwam pas later toen ik er meer stukken bij vond.'' Het echtpaar had er plezier in om allerlei verzamelaars-, vlooien- en jaarmarkten af te stropen.
Maar ook had men een fijne neus voor winkeltjes waar ze iets zouden kunnen vinden. Zo werd de collectie tegels, borden, puzzels, raamhangers, beschilderde hulzen en tal van andere curiositeiten vanaf 1990 zorgvuldig opgebouwd. ''Ik heb ook veel van Marktplaats en eBay. Veel artikelen komen uit Canada, Australië en Amerika. Kinderen weten niet wat ze aan moeten met het spul dat hun ouders ooit uit Nederland meenamen.'' Het echtpaar woonde op verschillende plaatsen in ons land en sinds kort weer in Veenendaal. Beiden hebben een Veense achtergrond. Hij komt van de Valleistraat waar vader Jo Bos een handel in peteroleum had. Zij is van de Fluitersstraat. In 1963 leerden ze elkaar kennen tijdens het Oranjebal in de hal van Van Schoonhoven aan de Industrielaan. Hij ging van de ambachtsschool in Wageningen naar de HTS in Arnhem en werkte zijn langste tijd bij het internationale Mars-concern. Mees groeide daar door. Zo begeleidde hij het technische deel van de bouw van de fabriek in Duitsland. Op zijn 56ste kreeg hij de mogelijkheid om er uit te stappen. Het paar ging naar Ederveen om wat centraler te wonen. In een boerderij met 8000 vierkante meter land had men de ruimte met een eigen kamertje voor Mees om zijn collectie uit te stallen.
Daar ontving hij in 2017 ook TV Gelderland die een item maakte. Enkele jaren eerder exposeerde hij een deel van de collectie in Museum De Casteelse Poort in Wageningen. Met het oog op de toekomst werd voor een appartement in Veenendaal gekozen. De verzameling kon écht niet mee. Het bleek nog een hele stap om er afstand van te doen. Verdeel je het onder je drie kinderen, verkoop je het of schenk je het? Tenslotte zitten er duizenden euro's in. Omdat Mees Bos niet direct 'van het geld' is besloot hij het te schenken. Hij had al contact met musea maar bij het Bevriidingsmuseum Zeeland in Nieuwdorp bij Goes, daar had hij het beste gevoel bij. ''Daar kwam ik op door mijn zoon.
Dat is een motorliefhebber en op zijn tochten maakte hij kennis met een andere biker die vrijwilliger was bij dit museum. Zo ging de bal rollen.'' De directeur kwam langs en onderkende de importantie van de grootste bevrijdingscollectie van Nederland. Bos deed er in z'n geheel afstand van. Slechts een paar stuks bleef achter. ''Elk kind mocht er één stuk uit nemen'' Ook echtgenote Leny. Die koos voor een oranje bolvormig vaasje. ''Dat is gemaakt door glasblazerij Leerdam naar het ontwerp van Copier,'' weet Bos te vertellen. ''Leerdam maakte al achterlichten voor fi etsen en auto's en dus konden ze vrij simpel oranje glas maken. De intensiteit van het oranje verschilt per vaasje maar de vorm is hetzelfde.'' Zo heeft hij van bijna elk item achtergronden. In goede handen Mees heeft zijn collectie al in december 2017 geschonken.
Bij het Bevrijdingsmuseum Zeeland is alles in goede handen. Dit museum richt zich vooral op de Slag om de Schelde en wordt op 25 oktober heropend na een grootscheepse verbouwing. Er komt een themapark omheen. Die dag is de 75ste herdenking van deze slag. ''Ze kwamen met een vrachtwagen om de achthonderd items op te halen'', vertelt hij. Op zijn tachtigste kreeg hij als grote verrassing een fotoboek van een aantal highligts uit de collectie. Dochter en schoonzoon zijn vormgevers en maken ook kunstboeken. Het smaakte naar meer en zo ontstond het idee om er een echte publicatie te maken. Die is er nu en op voorraad in het Bevrijdingsmuseum maar ook bij Boekhandel van Kooten aan de Zandstraat in Veenendaal. Verder op aanvraag bij elke boekwinkel.
[ENGLISH]
These are special articles that all have to do with the liberation of our country and cover a time span from the entry of the Allies in the Netherlands in the autumn of 1944 to the end of 1945. In between, there is a wide range of works relating to the liberation. reminder.
They are usually decorative objects, often made by home industry. There are painted plates, tiles with inscriptions, a cow horn with the inscription "Arnhem 1944", drawings, also books (even one with the signature of Soldier of Orange Erik Hazelhoff Roelfzema "), vases and glassware. But there are also utensils such as a hexagonal ashtray made from biscuit tins that were thrown out.
The intention was that the proceeds from this ashtray would benefit the never realized War Remembrance Museum in Ede, the "Committee" reports at the bottom. And what about a teapot in the shape of a Sherman tank where, the fuller the "tank" is, the driver's cup rises? Or a colorful wall plate that commemorates September 1944 and was issued by the Van Gelder en Zonen paper factory in Renkum? All curious. But there is much more to the collection. An etching by Maarten Krabbé, for example, Jeroen's father.
Also a wall plate that hung in Hotel De Wereld in Wageningen that reminds us of the capitulation. It is unique. "" A collector bought this plate from the estate of this hotel. Later he offered it to the municipality. He didn't want to give anything for it. The man then sold it to me. "" Now this Wageningen historical piece is located in Nieuwdorp in Zeeland. Started with sign How did that passion begin? "" Actually by my wife. It had a sign of the liberation. That collecting came later when I found more pieces. "" The couple enjoyed scouring all kinds of collectors', flea and annual fairs.
But they also had a good nose for shops where they could find something. The collection of tiles, plates, puzzles, window hangers, painted tubes and many other curiosities was carefully built up from 1990 onwards. "I also have a lot of Marketplace and eBay. Many articles come from Canada, Australia and America. Children do not know what to do with the stuff their parents once brought with them from the Netherlands. "" The couple lived in various places in our country and recently in Veenendaal again. Both have a Veense background. He comes from the Valleistraat where father Jo Bos had a business in peteroleum. She is from the Fluitersstraat. In 1963 they met during the Orange Ball in the hall of Van Schoonhoven on the Industrielaan. He went from craft school in Wageningen to the HTS in Arnhem and spent most of his time at the international Mars concern. Mees continued to grow there. He supervised the technical part of the construction of the factory in Germany. At 56 he was given the opportunity to leave. The couple went to Ederveen to live more centrally. In a farm with 8,000 square meters of land, they had the space with a private room for Mees to display his collection.
There he also received TV Gelderland that made an item in 2017. A few years earlier he exhibited part of the collection in Museum De Casteelse Poort in Wageningen. With an eye to the future, an apartment in Veenendaal was chosen. The collection really couldn't keep up. It turned out to be quite a step to part with it. Do you distribute it among your three children, do you sell it or donate it? After all, it contains thousands of euros. Because Mees Bos is not directly "of the money", he decided to donate it. He already had contact with museums, but he had the best feeling about it at the Bevriidingsmuseum Zeeland in Nieuwdorp near Goes. "" I came up with that because of my son.
He is a motorcycle enthusiast and on his trips he met another biker who was a volunteer at this museum. That's how the ball started rolling. "" The director came by and recognized the importance of the largest liberation collection in the Netherlands. Bos renounced it completely. Only a few pieces remained. "" Each child was allowed to take out one piece "" Also wife Leny. He opted for an orange spherical vase. "That was made by glassworks Leerdam after a design by Copier," Bos says. "Leerdam already made rear lights for bicycles and cars, so they could make quite simple orange glass. The intensity of the orange differs per vase, but the shape is the same. "" He has backgrounds for almost every item. In good hands Mees already donated his collection in December 2017.
Everything is in good hands at the Liberation Museum Zeeland. This museum focuses mainly on the Battle of the Scheldt and will be reopened on 25 October after a major renovation. There will be a theme park around it. That day is the 75th anniversary of this battle. "They came by truck every eight hundred
20.00 EUR
---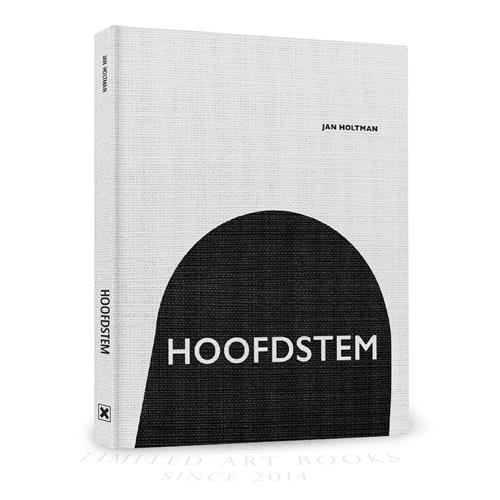 Jan Holtman
Hoofdstem
Het debuut van Jan Holtman!
Proza/gedichten
64 pagina's zwart/wit
Hard cover linnen omslag
ISBN 9789082194470
Formaat: 170 x 240 cm
© 2021 Uitgever: KochxBos Publishers
19.00 EUR
---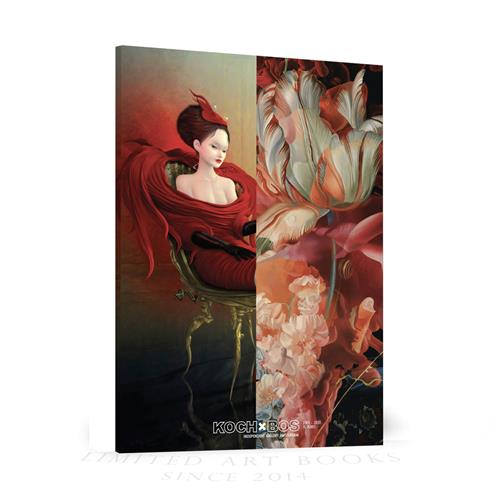 Art Fair
Catalogue 2020-2021
Our latest printed catalogue for the 'Wide awake' exhibition. Order it here
7.00 EUR
---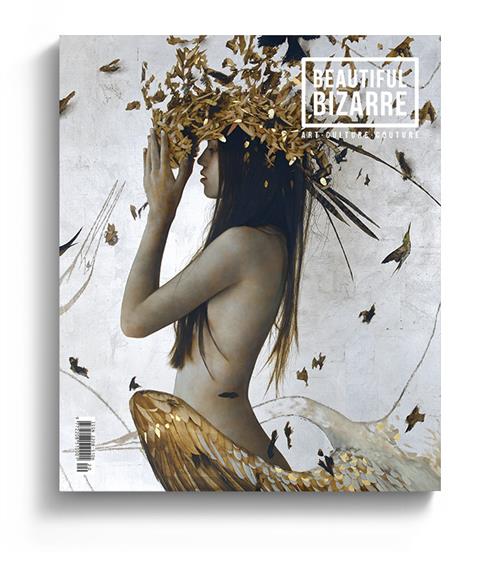 Beautiful Bizarre Magazine
Issue 27
# 27
Exclusive Interviews: Brad Kunkle [cover artist], Erik Thor Sandberg, Kate Bergin, and Yoann Lossel
Path to Creation: Handiedan
Feature Articles: Kristen Liu-Wong, Delphine Cencig, Yosuke Ueno, Nychos, Linde Ivimey, Ryan Heshka, Dima Rebus
Lookbook: 8 pages of stunning full page reproductions of Casey Weldon's incredible paintings.
Snapshot Q&A: Happy D, Mary Syring, Junko Mizuno, Meredith Marsone, Gustavo Rimada, Courtney Brims
Curators Wishlist: Anthony Roth, Director of Anthony Roth Gallery in Paris shares what he would like to add to his personal collection
Artist vs Artist: Artist couple Kristine and Colin Poole share an intimate conversation about life, love, and living and working together.
Some of our Favourite Things: We share some of our favourite wearable art brands including Miss G Designs, Mother of London, Ada Zanditon Couture, Candy Make Up Artist, Discordia Designs, and Liv Free.
23.00 EUR
---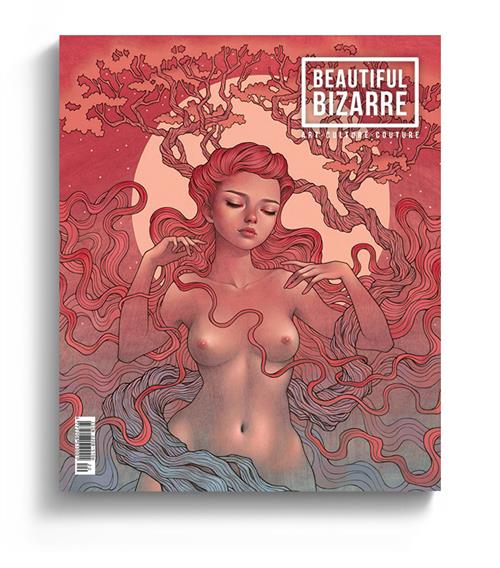 Beautiful Bizarre Magazine
Issue 32
Each issue is a beautiful and unique collectable. If you love visual or wearable art, then you will love Beautiful Bizarre Magazine!
Inside Issue 32 our special 'Women Artists' Issue
Exclusive Interviews: Sandra Chevrier, Ingrid Baars [2020 Beautiful Bizarre Art Prize, Honourable Mention], Harmonia Rosales, Susannah Martin
Studio Visit: We visit Rose Freymuth-Frazier's New York City studio, and chat to her about her psychotherapy "On the Couch" series
Feature Articles: Audrey Kawasaki [cover artist], Laurie Lipton, Maryam Gohar, Rachael Bridge, Vanessa Stockard, Iness Rychlik, Laurie Lee Brom
Lookbook: Stunning full page reproductions of Pippa McManus' mixed media paintings
Snapshot Q&A: Isabelle de Kleine, Cecilia Avendano, Kaethe Butcher, Catrin Welz-Stein, Claire Partington, Ana Bagayan
Curators Wishlist: Danielle Krysa, Director & Founder of The Jealous Curator shares what she would like to add to her personal collection
Artist + Artist: Artist friends, Shana Levenson & Judy Takacs discuss issues facing women artists in the visual arts today
Some of our Favourite Things: We share some of our favourite wearable art brands including: Rachel Burke, Linda Friesen Couture, Jaroslava Wurll Kocanova, Joanne Fleming Design, Natacha Marrom Chotronette
17.00 EUR
---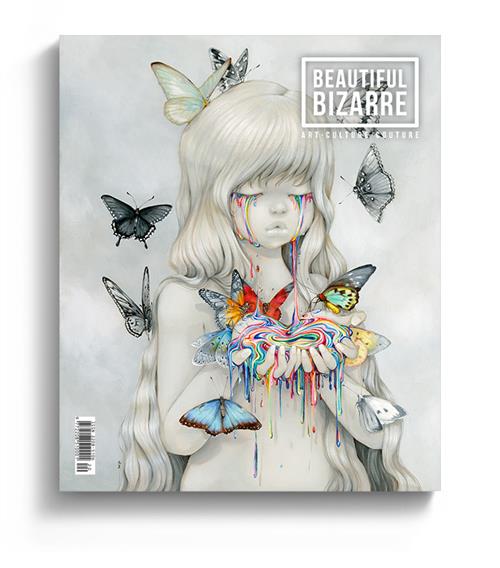 Beautiful Bizarre Magazine
Issue 31
Exclusive Interviews: Camilla d'Errico [cover artist], Ian Francis, Lilli Waters, Phillip Singer [2020 Beautiful Bizarre Art Prize Winner]
Art Prize Editorial: Features the winners of the 2020 Beautiful Bizarre Art Prize. Phillip Singer [Winner 2020 Beautiful Bizarre Art Prize], Colin and Kristine Poole [Winners of the Yasha Young Projects Sculpture Award], Lexi Laine [Winner of the iCanvas Photography Award], Heidi Taillefer [Winner of the INPRNT Traditional Art Award], Vini Naso [Winner of the ZBrush Digital Art Award].
Feature Articles: El Gato Chimney, Jesus Aguado, Emmanuel Fillion, Reuben Negron, Nicolas Bruno [2019 Beautiful Bizarre Art Prize, Photography Award, 2nd Prize Winner], Roby Dwi Antono, and Jesus Ingles
Lookbook: 7 pages of stunning full page reproductions of Soey Milk's graphite drawings
Snapshot Q&A: Kathy Ager, Ricard Lopez Iglesias, Kim Evans, Susannah Montague [2020 Beautiful Bizarre Art Prize, 3rd Prize Winner of the Yasha Young Projects Sculpture Award], Olivia Rose, and Eunpyon
Curators Wishlist: Collector and Co-Founder of The Bennett Collection of Women Realists, and The Bennett Prize, Dr Elaine M. Schmidt shares what she would like to add to her personal collection
Artist vs Artist: Artist couple Caitlin McCormck and Alex Eckman-Lawn share an intimate conversation about life, love and creating together.
Some of our Favourite Things: We share some of our favourite wearable art brands including: Mörk Collective, Parts of Four, Carolin Holzhuber, Romain Thevenin Paris, Simon-Hartman London, and Maya Noach
17.00 EUR
---
Beautiful Bizarre Magazine
Issue 30
Inside Issue 30
Exclusive Interviews: Yoko d'Holbachie [cover artist], Adrienne Stein, Afarin Sajedi, Shaun Tan
Studio Visit: Annie Stegg Gerard
Feature Articles: Giorgiko, Scott Listfield, Richard Ahnert, Calvin Nicholls, Karen Jerzyk, Aline Brant, Jason Limon
Lookbook: 6 pages of stunning full page reproductions of Ciou's paintings
Snapshot Q&A: Nikole Cooney [2019 Beautiful Bizarre Art Prize, Honourable Mention], Jessica Watts, Jaymi Zents, Chantal Horeis, My Pet Skeleton [2019 Beautiful Bizarre Art Prize, People's Choice Winner], Michelle Avery Konczyk
Curators Wishlist: Didi Menendez, Director of PoetsArtists shares what she would like to add to her personal collection
Artist vs Artist: Artists Alpay Efe and Lioba Bruckner share an intimate conversation about life, love and creating together.
Some of our Favourite Things: We share some of our favourite wearable art brands including: Bird Skin, Aphia Sakyi, Marianna Harutunian, Bayou Brass, Diego Montoya, Laura Estrada Jewelry.
17.00 EUR
---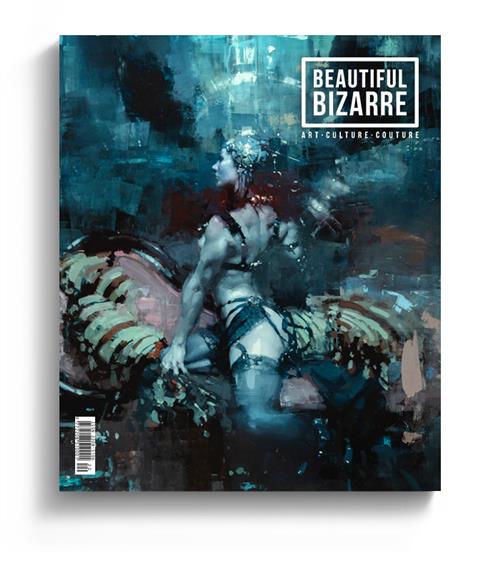 Beautiful Bizarre Magazine
Issue 33
# 33

Additional information
Inside Issue 33
Exclusive In-Depth Interviews: Jeremy Mann [cover artist], Adrian Cox, Nick Alm, Matthew Stone
Collectors Profile: We speak to Andrew & Shawn Hosner [Owners & Directors of Thinkspace Projects] in LA, about their incredible collection of New Contemporary Art
Feature Articles: Steven Kenny [1st Prize Winner of the Traditional Art Award, 2019 Beautiful Bizarre Art Prize], Super A, Mothmeister, Welder Wings, Nicole Evans, Lucio Carvalho, Heather Benjamin
Lookbook: Stunning full page reproductions of Miho Hirano's paintings
Snapshot Q&A: Susan McDonnell [2nd Prize Winner of the 2020 Beautiful Bizarre Art Prize, Traditional Art Award], Max Sansing, Christina Mrozik, Adam Matano [3rd Prize Winner of the 2019 Beautiful Bizarre Art Prize, Sculpture Award], Amahi Mori, Kane Kokaris
Curators Wishlist: Kamram Bigdely, Founder of the Durmoosh Instagram account [237,000+ followers], shares what he would like to add to his personal collection
Artist + Artist: Artist couple, Carolynda & Alan Macdonald share an intimate conversation about life, love and creating together.
Some of our Favourite Things: We share some of our favourite wearable art brands including: Alon Livne Design, Ana Ljubinković, Cryptic Nine, Frida Barfod, Mishi May, and Zexian Liu.
17.00 EUR
---


An Amsterdam printing and bindery
Making choices. Are you going to have the books produced 'cheap' across the border or are you going to get started with 'heart and soul'? With a printing company where you have direct contact with all those involved in the book? Where you can stand together next to the press to blend the most brilliant colors to get the best results? Yes! (4x). And as we go for quality, we choose a cover, thicker than normal, the finest smooth matte paper, the color of the reading ribbons, the finishing, all in close contact with professionals. The ultra-ultra-fine lines and intense colors of the works of Ciou also ask for the finest grid, the highest print quality and control. An additional reason for choosing a local printer is that we could be on top of things. From the early preparations to final printing. To create something really special together.