Femke Hiemstra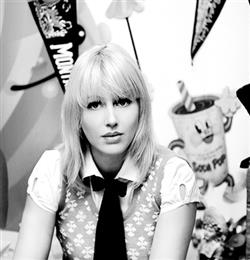 (ENG) The first solo show of Femke Hiemstra in 2007 was called 'La Fenètre Secrète'. It turned out to be the last show at our then upstarting gallery. The show sold out in 40 minutes which was a whole new experience back then for us. Next Femke choose for an international representation by Roq La Rue in Seattle..
KochxBos Gallery opened a 'secret window to the fantastic world' by Hiemstra. Most of the preciously created work was painted on paper but sometimes it found its way into little prayer books, small scouting vanes or antique tobacco cans. In these paintings and drawings Hiemstra had shapes and objects coming to life playing with animals, fantasy creatures and typographics.
The atmosphere reminded of children's books from an era gone by. A second look however revealed a sharper edge: hunters and skeletons, secret smokers and easter bunnies recounting their mysterious existence in many languages.
https://kochxbos.com/112/records/122/_cache/1600w/474.jpg,https://kochxbos.com/112/records/122/_cache/1200w/474.jpg,https://kochxbos.com/112/records/122/_cache/640w/474.jpg,https://kochxbos.com/112/records/122/_cache/280w/474.jpg,Femke Hiemstra 'Frokost' | 2007 | Mixed techniques | 30 x 31 cm | SOLD
https://kochxbos.com/112/records/123/_cache/1600w/476.jpg,https://kochxbos.com/112/records/123/_cache/1200w/476.jpg,https://kochxbos.com/112/records/123/_cache/640w/476.jpg,https://kochxbos.com/112/records/123/_cache/280w/476.jpg,Femke Hiemstra 'Le Club Des Fumeurs Secret' | 2007 | Mixed techniques | 30 x 31 cm | SOLD
https://kochxbos.com/112/records/126/_cache/1600w/456.jpg,https://kochxbos.com/112/records/126/_cache/1200w/456.jpg,https://kochxbos.com/112/records/126/_cache/640w/456.jpg,https://kochxbos.com/112/records/126/_cache/280w/456.jpg,Femke Hiemstra 'Appetissant wit' | 2007 | Graphite drawing digitally coloured | Sold | SOLD
https://kochxbos.com/112/records/127/_cache/1600w/462.jpg,https://kochxbos.com/112/records/127/_cache/1200w/462.jpg,https://kochxbos.com/112/records/127/_cache/640w/462.jpg,https://kochxbos.com/112/records/127/_cache/280w/462.jpg,Femke Hiemstra 'Archer' | 2007 | Mixed techniques | Sold | SOLD
https://kochxbos.com/112/records/128/_cache/1600w/465.jpg,https://kochxbos.com/112/records/128/_cache/1200w/465.jpg,https://kochxbos.com/112/records/128/_cache/640w/465.jpg,https://kochxbos.com/112/records/128/_cache/280w/465.jpg,Femke Hiemstra 'Beard in the woods' | 2007 |  | Sold | SOLD
https://kochxbos.com/112/records/,https://kochxbos.com/112/records/,https://kochxbos.com/112/records/,https://kochxbos.com/112/records/,Femke Hiemstra 'Button' | 2007 |  | Sold | € 2 <a href=../217/?form_112.replyids=129>FOR SALE</a>
https://kochxbos.com/112/records/,https://kochxbos.com/112/records/,https://kochxbos.com/112/records/,https://kochxbos.com/112/records/,Femke Hiemstra 'Catalogue' | 2007 |  | Sold | € 8 <a href=../217/?form_112.replyids=130>FOR SALE</a>
https://kochxbos.com/112/records/131/_cache/1600w/477.jpg,https://kochxbos.com/112/records/131/_cache/1200w/477.jpg,https://kochxbos.com/112/records/131/_cache/640w/477.jpg,https://kochxbos.com/112/records/131/_cache/280w/477.jpg,Femke Hiemstra 'Dummkopf' | 2007 | Mixed techniques | Sold | SOLD
https://kochxbos.com/112/records/132/_cache/1600w/471.jpg,https://kochxbos.com/112/records/132/_cache/1200w/471.jpg,https://kochxbos.com/112/records/132/_cache/640w/471.jpg,https://kochxbos.com/112/records/132/_cache/280w/471.jpg,Femke Hiemstra 'Edelweiss' | 2007 | Mixed techniques | Sold | SOLD
https://kochxbos.com/112/records/133/_cache/1600w/473.jpg,https://kochxbos.com/112/records/133/_cache/1200w/473.jpg,https://kochxbos.com/112/records/133/_cache/640w/473.jpg,https://kochxbos.com/112/records/133/_cache/280w/473.jpg,Femke Hiemstra 'Goodbye' | 2007 | Mixed techniques | Sold | SOLD
https://kochxbos.com/112/records/134/_cache/1600w/482.jpg,https://kochxbos.com/112/records/134/_cache/1200w/482.jpg,https://kochxbos.com/112/records/134/_cache/640w/482.jpg,https://kochxbos.com/112/records/134/_cache/280w/482.jpg,Femke Hiemstra 'Hunter' | 2007 | Mixed techniques | Sold | SOLD
https://kochxbos.com/112/records/135/_cache/1600w/482.jpg,https://kochxbos.com/112/records/135/_cache/1200w/482.jpg,https://kochxbos.com/112/records/135/_cache/640w/482.jpg,https://kochxbos.com/112/records/135/_cache/280w/482.jpg,Femke Hiemstra 'La Bocca Della Verite' | 2007 | Mixed techniques | Sold | SOLD
https://kochxbos.com/112/records/136/_cache/1600w/488.jpg,https://kochxbos.com/112/records/136/_cache/1200w/488.jpg,https://kochxbos.com/112/records/136/_cache/640w/488.jpg,https://kochxbos.com/112/records/136/_cache/280w/488.jpg,Femke Hiemstra 'No Soggy Waste In The Bowl' | 2007 | Mixed techniques | Sold | SOLD
https://kochxbos.com/112/records/137/_cache/1600w/485.jpg,https://kochxbos.com/112/records/137/_cache/1200w/485.jpg,https://kochxbos.com/112/records/137/_cache/640w/485.jpg,https://kochxbos.com/112/records/137/_cache/280w/485.jpg,Femke Hiemstra 'Party Pooper' | 2007 | Mixed techniques | Sold | SOLD
https://kochxbos.com/112/records/138/_cache/1600w/472.jpg,https://kochxbos.com/112/records/138/_cache/1200w/472.jpg,https://kochxbos.com/112/records/138/_cache/640w/472.jpg,https://kochxbos.com/112/records/138/_cache/280w/472.jpg,Femke Hiemstra 'Patetico' | 2007 | Mixed techniques | Sold | SOLD
https://kochxbos.com/112/records/139/_cache/1600w/492.jpg,https://kochxbos.com/112/records/139/_cache/1200w/492.jpg,https://kochxbos.com/112/records/139/_cache/640w/492.jpg,https://kochxbos.com/112/records/139/_cache/280w/492.jpg,Femke Hiemstra 'Sir Javelin' | 2007 | Mixed techniques | Sold | SOLD
https://kochxbos.com/112/records/140/_cache/1600w/489.jpg,https://kochxbos.com/112/records/140/_cache/1200w/489.jpg,https://kochxbos.com/112/records/140/_cache/640w/489.jpg,https://kochxbos.com/112/records/140/_cache/280w/489.jpg,Femke Hiemstra 'Sursum Corda' | 2007 | Mixed techniques | Sold | SOLD
https://kochxbos.com/112/records/141/_cache/1600w/491.jpg,https://kochxbos.com/112/records/141/_cache/1200w/491.jpg,https://kochxbos.com/112/records/141/_cache/640w/491.jpg,https://kochxbos.com/112/records/141/_cache/280w/491.jpg,Femke Hiemstra 'Tango Tragique' | 2007 | Mixed techniques | Sold | SOLD
https://kochxbos.com/112/records/142/_cache/1600w/463.jpg,https://kochxbos.com/112/records/142/_cache/1200w/463.jpg,https://kochxbos.com/112/records/142/_cache/640w/463.jpg,https://kochxbos.com/112/records/142/_cache/280w/463.jpg,Femke Hiemstra 'The Butterfly Falconer' | 2007 | Mixed techniques | Sold | SOLD
https://kochxbos.com/112/records/143/_cache/1600w/483.jpg,https://kochxbos.com/112/records/143/_cache/1200w/483.jpg,https://kochxbos.com/112/records/143/_cache/640w/483.jpg,https://kochxbos.com/112/records/143/_cache/280w/483.jpg,Femke Hiemstra 'The Escape' | 2007 | Mixed techniques | Sold | SOLD
https://kochxbos.com/112/records/144/_cache/1600w/495.jpg,https://kochxbos.com/112/records/144/_cache/1200w/495.jpg,https://kochxbos.com/112/records/144/_cache/640w/495.jpg,https://kochxbos.com/112/records/144/_cache/280w/495.jpg,Femke Hiemstra 'The Survivor' | 2007 | Mixed techniques | Sold | SOLD
https://kochxbos.com/112/records/145/_cache/1600w/496.jpg,https://kochxbos.com/112/records/145/_cache/1200w/496.jpg,https://kochxbos.com/112/records/145/_cache/640w/496.jpg,https://kochxbos.com/112/records/145/_cache/280w/496.jpg,Femke Hiemstra 'Trespasser' | 2007 | Mixed techniques | Sold | SOLD
https://kochxbos.com/112/records/,https://kochxbos.com/112/records/,https://kochxbos.com/112/records/,https://kochxbos.com/112/records/,Femke Hiemstra 'Rock Candy' | 0 |  | Sold | SOLD

https://kochxbos.com/112/records/114/_cache/1600w/979.jpg,https://kochxbos.com/112/records/114/_cache/1200w/979.jpg,https://kochxbos.com/112/records/114/_cache/640w/979.jpg,https://kochxbos.com/112/records/114/_cache/280w/979.jpg,Femke Hiemstra '(HW) Tragedy' | 2007 | Graphite drawing digitally coloured | 18 x 18 cm | SOLD
https://kochxbos.com/112/records/115/_cache/1600w/454.jpg,https://kochxbos.com/112/records/115/_cache/1200w/454.jpg,https://kochxbos.com/112/records/115/_cache/640w/454.jpg,https://kochxbos.com/112/records/115/_cache/280w/454.jpg,Femke Hiemstra 'Festividad' | 2007 | Graphite drawing digitally coloured | 18 x 18 cm | SOLD
https://kochxbos.com/112/records/116/_cache/1600w/452.jpg,https://kochxbos.com/112/records/116/_cache/1200w/452.jpg,https://kochxbos.com/112/records/116/_cache/640w/452.jpg,https://kochxbos.com/112/records/116/_cache/280w/452.jpg,Femke Hiemstra 'Grillfest' | 2007 | Graphite drawing digitally coloured | 18 x 18 cm | SOLD
https://kochxbos.com/112/records/117/_cache/1600w/448.jpg,https://kochxbos.com/112/records/117/_cache/1200w/448.jpg,https://kochxbos.com/112/records/117/_cache/640w/448.jpg,https://kochxbos.com/112/records/117/_cache/280w/448.jpg,Femke Hiemstra '(HW) Le Roi d' | 2007 | Graphite drawing digitally coloured | 18 x 18 cm | SOLD
https://kochxbos.com/112/records/118/_cache/1600w/450.jpg,https://kochxbos.com/112/records/118/_cache/1200w/450.jpg,https://kochxbos.com/112/records/118/_cache/640w/450.jpg,https://kochxbos.com/112/records/118/_cache/280w/450.jpg,Femke Hiemstra 'Nightmare' | 2007 | Graphite drawing digitally coloured | 18 x 18 cm | SOLD
https://kochxbos.com/112/records/119/_cache/1600w/454.jpg,https://kochxbos.com/112/records/119/_cache/1200w/454.jpg,https://kochxbos.com/112/records/119/_cache/640w/454.jpg,https://kochxbos.com/112/records/119/_cache/280w/454.jpg,Femke Hiemstra '(HW) Serenata' | 2007 | Graphite drawing digitally coloured | 18 x 18 cm | SOLD
https://kochxbos.com/112/records/120/_cache/1600w/978.jpg,https://kochxbos.com/112/records/120/_cache/1200w/978.jpg,https://kochxbos.com/112/records/120/_cache/640w/978.jpg,https://kochxbos.com/112/records/120/_cache/280w/978.jpg,Femke Hiemstra 'Skinny dipping' | 2007 | Graphite drawing digitally coloured | 18 x 18 cm | SOLD
https://kochxbos.com/112/records/121/_cache/1600w/979.jpg,https://kochxbos.com/112/records/121/_cache/1200w/979.jpg,https://kochxbos.com/112/records/121/_cache/640w/979.jpg,https://kochxbos.com/112/records/121/_cache/280w/979.jpg,Femke Hiemstra '(HW) Tragedy (Artist Proof)' | 2007 | Graphite drawing digitally coloured | 18 x 18 cm | SOLD
https://kochxbos.com/112/records/124/_cache/1600w/458.jpg,https://kochxbos.com/112/records/124/_cache/1200w/458.jpg,https://kochxbos.com/112/records/124/_cache/640w/458.jpg,https://kochxbos.com/112/records/124/_cache/280w/458.jpg,Femke Hiemstra 'A Day's Out #1' | 2007 | Graphite drawing digitally coloured | Sold | SOLD
https://kochxbos.com/112/records/125/_cache/1600w/453.jpg,https://kochxbos.com/112/records/125/_cache/1200w/453.jpg,https://kochxbos.com/112/records/125/_cache/640w/453.jpg,https://kochxbos.com/112/records/125/_cache/280w/453.jpg,Femke Hiemstra 'A Day's Out #2' | 2007 | Graphite drawing digitally coloured | Sold | SOLD