Martin Draax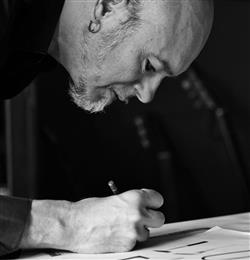 Martin Draax is a mixed media artist living in Amsterdam. He uses his background as a graphic designer and a pop composer to mix all kinds of media. He is interested in high and low culture in equal measures, and tries to combine craft and a strong concept with the psychology behind the fetish.
His works of art always maintain their witty, somewhat naughty but always sweet authenticity. In his music we hear strong and easy recognisable hooklines. Melodies are solidly encapsuled in rather unlikely chord schemes and riffs, referring to Exotica, soul, punkrock and jazz without sounding 'academic'. In his imagery we see something of the same quality: popular themes cut from their regular backgrounds are blended into a conceptually strong, refreshing work.
Draax made music and videoclips with his band The Spinshots for his fashion brand Comic Sexy – an example of how he combines 'applied' and 'autonomous' arts, using different kinds of media and having a deep understanding of the synergetic total. Links to comic strips, the 60's, the exotic and to cinema are always apparent in his work, yet you haven't seen anything like it before.
https://kochxbos.com/112/records/2344/_cache/1600w/draax-Cover-cmyk-3D-1800px-shadow.jpg,https://kochxbos.com/112/records/2344/_cache/1200w/draax-Cover-cmyk-3D-1800px-shadow.jpg,https://kochxbos.com/112/records/2344/_cache/640w/draax-Cover-cmyk-3D-1800px-shadow.jpg,https://kochxbos.com/112/records/2344/_cache/280w/draax-Cover-cmyk-3D-1800px-shadow.jpg,Martin Draax 'Baby Boom graphic novel' | 2023 |  | 21x30 | € 25 <a href=../217/?form_112.replyids=2344>FOR SALE</a>
https://kochxbos.com/112/records/2325/_cache/1600w/ed140718-4b05-b77e-aa2a-8ab696f8f8d3.jpg,https://kochxbos.com/112/records/2325/_cache/1200w/ed140718-4b05-b77e-aa2a-8ab696f8f8d3.jpg,https://kochxbos.com/112/records/2325/_cache/640w/ed140718-4b05-b77e-aa2a-8ab696f8f8d3.jpg,https://kochxbos.com/112/records/2325/_cache/280w/ed140718-4b05-b77e-aa2a-8ab696f8f8d3.jpg,Martin Draax 'Pagina uit het boek' | 0 |  |  | SOLD
https://kochxbos.com/112/records/2326/_cache/1600w/g9j49GyH2vwegPrr.jpg,https://kochxbos.com/112/records/2326/_cache/1200w/g9j49GyH2vwegPrr.jpg,https://kochxbos.com/112/records/2326/_cache/640w/g9j49GyH2vwegPrr.jpg,https://kochxbos.com/112/records/2326/_cache/280w/g9j49GyH2vwegPrr.jpg,Martin Draax 'Cover Baby Boom' | 0 |  |  | SOLD

https://kochxbos.com/112/records/1501/_cache/1600w/Prints-Martin-Draax-samen.png,https://kochxbos.com/112/records/1501/_cache/1200w/Prints-Martin-Draax-samen.png,https://kochxbos.com/112/records/1501/_cache/640w/Prints-Martin-Draax-samen.png,https://kochxbos.com/112/records/1501/_cache/280w/Prints-Martin-Draax-samen.png,Martin Draax 'Piezo art editions (per piece)' | 2020 |  | 30x60 cm | € 125 <a href=../217/?form_112.replyids=1501>FOR SALE</a>
https://kochxbos.com/112/records/1493/_cache/1600w/Martin_Draax_DeepSpace.png,https://kochxbos.com/112/records/1493/_cache/1200w/Martin_Draax_DeepSpace.png,https://kochxbos.com/112/records/1493/_cache/640w/Martin_Draax_DeepSpace.png,https://kochxbos.com/112/records/1493/_cache/280w/Martin_Draax_DeepSpace.png,"Martin Draax 'Deep Space' | 2020 | pencil drawing with stains, created with only a 4B graphite on 160 gr. Artic White paper | 100x200 cm | € 4200 <a href=../217/?form_112.replyids=1493>FOR SALE</a>"
https://kochxbos.com/112/records/1494/_cache/1600w/Martin_Draax_DoBadHabitsWearOff.png,https://kochxbos.com/112/records/1494/_cache/1200w/Martin_Draax_DoBadHabitsWearOff.png,https://kochxbos.com/112/records/1494/_cache/640w/Martin_Draax_DoBadHabitsWearOff.png,https://kochxbos.com/112/records/1494/_cache/280w/Martin_Draax_DoBadHabitsWearOff.png,Martin Draax ' Do Bad Habits Wear Off ' | 2020 | pencil drawing on 160 gr. Artic White paper | 100x200 cm | SOLD
https://kochxbos.com/112/records/1495/_cache/1600w/Martin_Draax_Eleven.png,https://kochxbos.com/112/records/1495/_cache/1200w/Martin_Draax_Eleven.png,https://kochxbos.com/112/records/1495/_cache/640w/Martin_Draax_Eleven.png,https://kochxbos.com/112/records/1495/_cache/280w/Martin_Draax_Eleven.png,Martin Draax ' School's Out ' | 2020 | pencil drawing on 160 gr. Artic White paper | 100x200 cm | SOLD
https://kochxbos.com/112/records/1496/_cache/1600w/Martin_Draax_NurseAndreea.png,https://kochxbos.com/112/records/1496/_cache/1200w/Martin_Draax_NurseAndreea.png,https://kochxbos.com/112/records/1496/_cache/640w/Martin_Draax_NurseAndreea.png,https://kochxbos.com/112/records/1496/_cache/280w/Martin_Draax_NurseAndreea.png,Martin Draax 'Nurse Andreea' | 2020 | pencil drawing on 160 gr. Artic White paper | 100x200 cm | € 4200 <a href=../217/?form_112.replyids=1496>FOR SALE</a>
https://kochxbos.com/112/records/1497/_cache/1600w/Martin_Draax_plasticSoup.png,https://kochxbos.com/112/records/1497/_cache/1200w/Martin_Draax_plasticSoup.png,https://kochxbos.com/112/records/1497/_cache/640w/Martin_Draax_plasticSoup.png,https://kochxbos.com/112/records/1497/_cache/280w/Martin_Draax_plasticSoup.png,Martin Draax 'Plastic Soup' | 2020 | pencil drawing on 160 gr. Artic White paper | 100x200 cm | € 4200 <a href=../217/?form_112.replyids=1497>FOR SALE</a>
https://kochxbos.com/112/records/1498/_cache/1600w/Martin_Draax_SchoolsOut.png,https://kochxbos.com/112/records/1498/_cache/1200w/Martin_Draax_SchoolsOut.png,https://kochxbos.com/112/records/1498/_cache/640w/Martin_Draax_SchoolsOut.png,https://kochxbos.com/112/records/1498/_cache/280w/Martin_Draax_SchoolsOut.png,Martin Draax 'Eleven' | 2020 | pencil drawing on 160 gr. Artic White paper | 100x200 cm | € 4200 <a href=../217/?form_112.replyids=1498>FOR SALE</a>
https://kochxbos.com/112/records/1499/_cache/1600w/Martin_Draax_Summer.png,https://kochxbos.com/112/records/1499/_cache/1200w/Martin_Draax_Summer.png,https://kochxbos.com/112/records/1499/_cache/640w/Martin_Draax_Summer.png,https://kochxbos.com/112/records/1499/_cache/280w/Martin_Draax_Summer.png,Martin Draax ' Summer ' | 2020 | pencil drawing on 160 gr. Artic White paper | 100x200 cm | SOLD
https://kochxbos.com/112/records/1500/_cache/1600w/Online_3d_pre_impression_KochxBos_Gallery_Martin_Draax.png,https://kochxbos.com/112/records/1500/_cache/1200w/Online_3d_pre_impression_KochxBos_Gallery_Martin_Draax.png,https://kochxbos.com/112/records/1500/_cache/640w/Online_3d_pre_impression_KochxBos_Gallery_Martin_Draax.png,https://kochxbos.com/112/records/1500/_cache/280w/Online_3d_pre_impression_KochxBos_Gallery_Martin_Draax.png,Martin Draax ' pre-impression of works gallery ' | 0 |  |  | SOLD
https://kochxbos.com/112/records/1493/_cache/1600w/Martin_Draax_DeepSpace.png,https://kochxbos.com/112/records/1493/_cache/1200w/Martin_Draax_DeepSpace.png,https://kochxbos.com/112/records/1493/_cache/640w/Martin_Draax_DeepSpace.png,https://kochxbos.com/112/records/1493/_cache/280w/Martin_Draax_DeepSpace.png,Martin Draax 'Deep Space' | 2020 | pencil drawing with stains; created with only a 4B graphite on 160 gr. Artic White paper | 100x200 cm | € 4200 <a href=../217/?form_112.replyids=1493>FOR SALE</a>
https://kochxbos.com/112/records/1494/_cache/1600w/Martin_Draax_DoBadHabitsWearOff.png,https://kochxbos.com/112/records/1494/_cache/1200w/Martin_Draax_DoBadHabitsWearOff.png,https://kochxbos.com/112/records/1494/_cache/640w/Martin_Draax_DoBadHabitsWearOff.png,https://kochxbos.com/112/records/1494/_cache/280w/Martin_Draax_DoBadHabitsWearOff.png,Martin Draax 'Do Bad Habits Wear Off' | 2020 | pencil drawing on 160 gr. Artic White paper | 100x200 cm | SOLD
https://kochxbos.com/112/records/1495/_cache/1600w/Martin_Draax_Eleven.png,https://kochxbos.com/112/records/1495/_cache/1200w/Martin_Draax_Eleven.png,https://kochxbos.com/112/records/1495/_cache/640w/Martin_Draax_Eleven.png,https://kochxbos.com/112/records/1495/_cache/280w/Martin_Draax_Eleven.png,Martin Draax 'School's Out' | 2020 | pencil drawing on 160 gr. Artic White paper | 100x200 cm | SOLD
https://kochxbos.com/112/records/1499/_cache/1600w/Martin_Draax_Summer.png,https://kochxbos.com/112/records/1499/_cache/1200w/Martin_Draax_Summer.png,https://kochxbos.com/112/records/1499/_cache/640w/Martin_Draax_Summer.png,https://kochxbos.com/112/records/1499/_cache/280w/Martin_Draax_Summer.png,Martin Draax 'Summer' | 2020 | pencil drawing on 160 gr. Artic White paper | 100x200 cm | SOLD
https://kochxbos.com/112/records/1500/_cache/1600w/Online_3d_pre_impression_KochxBos_Gallery_Martin_Draax.png,https://kochxbos.com/112/records/1500/_cache/1200w/Online_3d_pre_impression_KochxBos_Gallery_Martin_Draax.png,https://kochxbos.com/112/records/1500/_cache/640w/Online_3d_pre_impression_KochxBos_Gallery_Martin_Draax.png,https://kochxbos.com/112/records/1500/_cache/280w/Online_3d_pre_impression_KochxBos_Gallery_Martin_Draax.png,Martin Draax 'pre-impression of works gallery' | 0 |  |  | SOLD