Zoé Byland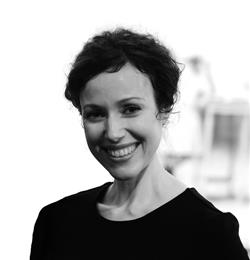 ZOE BYLAND'S works of art are in the Sanziany Vienna Collection, Kornfeld Collection Vienna and the Arts and Culture Vienna Collection.
Byland has been awarded by the Fügerpreis Academy of fine arts Vienna, American Art Award 2015, Vienna Opera Ball Poster, Kardinal König Kunstpreis nomination, Strabag Art Award nomination and the New York Master of Art Award.
Zoé Bylands born in Bern, Switzerland in 1975 creates monochromatic paintings that fluidly search the boundaries between low- and high culture. Her paintings are based on elements of vintage photography, film noir, graphic novels and classical genres of art history. She combine the traditional and the contemporary, the classical and the subcultural. Byland lives together with her husband who is a screen writer and they share their fascination for drama and mise-en-scène.
Byland uses subjects from turn-of-the-20th-century portrait photography because they are a timeless style of representation. Disguises are another central aspect of the work. Her characters never fully reveal their identity; they retain a degree of secrecy. They protect themselves and are simultaneously visible and vulnerable.
(SU) In the monochrome big black and white acrylic works Zoé Byland uses both paint and airbrush techniques. It gives them a wonderful 'out of focus' effect, and as a viewer you undergo a strange sense of sharpness and depth.
The subjects of all time are still current today: to create paintings that speak for themselves and do away with the boundary between high and low culture, counterpointing an elite art world that closed itself off to pop culture and counterculture. In the past fifteen years, many artists have taken up this tradition and supplemented the formal language with new elements, loading it with new content. Although they may work with the most diverse techniques, such as the classical painting medium or computer software, one can find among them a common trend toward narrative, dream-like scenarios, and uncanny-dark romanticism.
© Silvie Aigner
https://kochxbos.com/112/records/969/_cache/1600w/2906.jpg,https://kochxbos.com/112/records/969/_cache/1200w/2906.jpg,https://kochxbos.com/112/records/969/_cache/640w/2906.jpg,https://kochxbos.com/112/records/969/_cache/280w/2906.jpg,Zoé Byland 'King of the forest - SOLD' | 2017 | Acrylic on canvas | 153 x 213 cm | SOLD
https://kochxbos.com/112/records/968/_cache/1600w/2905.jpg,https://kochxbos.com/112/records/968/_cache/1200w/2905.jpg,https://kochxbos.com/112/records/968/_cache/640w/2905.jpg,https://kochxbos.com/112/records/968/_cache/280w/2905.jpg,Zoé Byland 'At night' | 2017 | Acrylic on canvas | 133 x 173 cm | SOLD
https://kochxbos.com/112/records/972/_cache/1600w/2909.jpg,https://kochxbos.com/112/records/972/_cache/1200w/2909.jpg,https://kochxbos.com/112/records/972/_cache/640w/2909.jpg,https://kochxbos.com/112/records/972/_cache/280w/2909.jpg,Zoé Byland 'Lady at the seaside - SOLD' | 2017 | Acrylic on canvas | 95 x 64 cm | SOLD
https://kochxbos.com/112/records/977/_cache/1600w/2914.jpg,https://kochxbos.com/112/records/977/_cache/1200w/2914.jpg,https://kochxbos.com/112/records/977/_cache/640w/2914.jpg,https://kochxbos.com/112/records/977/_cache/280w/2914.jpg,Zoé Byland 'Lady Dragonfly' | 2017 | Acrylic on canvas | 130 x 91 cm | SOLD
https://kochxbos.com/112/records/967/_cache/1600w/2903.jpg,https://kochxbos.com/112/records/967/_cache/1200w/2903.jpg,https://kochxbos.com/112/records/967/_cache/640w/2903.jpg,https://kochxbos.com/112/records/967/_cache/280w/2903.jpg,Zoé Byland 'Boy with aeroplane' | 2017 | Acrylic on canvas | 112 x 66 cm | SOLD
https://kochxbos.com/112/records/974/_cache/1600w/2911.jpg,https://kochxbos.com/112/records/974/_cache/1200w/2911.jpg,https://kochxbos.com/112/records/974/_cache/640w/2911.jpg,https://kochxbos.com/112/records/974/_cache/280w/2911.jpg,Zoé Byland 'The Hero - SOLD' | 2017 | Acrylic on canvas | 25 x 25 cm | SOLD
https://kochxbos.com/112/records/970/_cache/1600w/2907.jpg,https://kochxbos.com/112/records/970/_cache/1200w/2907.jpg,https://kochxbos.com/112/records/970/_cache/640w/2907.jpg,https://kochxbos.com/112/records/970/_cache/280w/2907.jpg,Zoé Byland 'The Lovers' | 2017 | Acrylic on canvas | 25 x 25 cm | SOLD
https://kochxbos.com/112/records/966/_cache/1600w/2904.jpg,https://kochxbos.com/112/records/966/_cache/1200w/2904.jpg,https://kochxbos.com/112/records/966/_cache/640w/2904.jpg,https://kochxbos.com/112/records/966/_cache/280w/2904.jpg,Zoé Byland 'The Band' | 2017 | acrylic on canvas | 25 x 25 cm | SOLD
https://kochxbos.com/112/records/973/_cache/1600w/2910.jpg,https://kochxbos.com/112/records/973/_cache/1200w/2910.jpg,https://kochxbos.com/112/records/973/_cache/640w/2910.jpg,https://kochxbos.com/112/records/973/_cache/280w/2910.jpg,Zoé Byland 'Rise and shine' | 2017 | Acrylic on canvas | 53 x 73 cm | SOLD
https://kochxbos.com/112/records/978/_cache/1600w/2917.jpg,https://kochxbos.com/112/records/978/_cache/1200w/2917.jpg,https://kochxbos.com/112/records/978/_cache/640w/2917.jpg,https://kochxbos.com/112/records/978/_cache/280w/2917.jpg,Zoé Byland 'Sisters with snowy owl' | 2016 | acrylic painting on canvas | 69 x 59 cm | SOLD
https://kochxbos.com/112/records/971/_cache/1600w/2908.jpg,https://kochxbos.com/112/records/971/_cache/1200w/2908.jpg,https://kochxbos.com/112/records/971/_cache/640w/2908.jpg,https://kochxbos.com/112/records/971/_cache/280w/2908.jpg,Zoé Byland 'The kids' | 2017 | Acrylic on canvas | 71 x 95 cm | SOLD
https://kochxbos.com/112/records/976/_cache/1600w/2913.jpg,https://kochxbos.com/112/records/976/_cache/1200w/2913.jpg,https://kochxbos.com/112/records/976/_cache/640w/2913.jpg,https://kochxbos.com/112/records/976/_cache/280w/2913.jpg,Zoé Byland 'Sisters and snow rabbit' | 2017 | Gyclee print | 69 x 59 cm | SOLD
https://kochxbos.com/112/records/975/_cache/1600w/2912.jpg,https://kochxbos.com/112/records/975/_cache/1200w/2912.jpg,https://kochxbos.com/112/records/975/_cache/640w/2912.jpg,https://kochxbos.com/112/records/975/_cache/280w/2912.jpg,Zoé Byland 'You are my haven' | 2017 | Gycleeprint |  | SOLD

https://kochxbos.com/112/records/747/_cache/1600w/2311.jpg,https://kochxbos.com/112/records/747/_cache/1200w/2311.jpg,https://kochxbos.com/112/records/747/_cache/640w/2311.jpg,https://kochxbos.com/112/records/747/_cache/280w/2311.jpg,Zoé Byland 'Girl in White / sold' | 2014 |  | 85 x 130 cm | SOLD
https://kochxbos.com/112/records/748/_cache/1600w/2308.jpg,https://kochxbos.com/112/records/748/_cache/1200w/2308.jpg,https://kochxbos.com/112/records/748/_cache/640w/2308.jpg,https://kochxbos.com/112/records/748/_cache/280w/2308.jpg,Zoé Byland 'Sunday Afternoon' | 2014 |  | 75 x 105 cm | SOLD
https://kochxbos.com/112/records/749/_cache/1600w/2309.jpg,https://kochxbos.com/112/records/749/_cache/1200w/2309.jpg,https://kochxbos.com/112/records/749/_cache/640w/2309.jpg,https://kochxbos.com/112/records/749/_cache/280w/2309.jpg,Zoé Byland 'In the Woods (sold)' | 2014 |  | 70 x 100 cm | SOLD
https://kochxbos.com/112/records/750/_cache/1600w/2305.jpg,https://kochxbos.com/112/records/750/_cache/1200w/2305.jpg,https://kochxbos.com/112/records/750/_cache/640w/2305.jpg,https://kochxbos.com/112/records/750/_cache/280w/2305.jpg,Zoé Byland 'Girl and Butterflies (sold)' | 2014 |  | 50 x 80 cm | SOLD
https://kochxbos.com/112/records/751/_cache/1600w/2304.jpg,https://kochxbos.com/112/records/751/_cache/1200w/2304.jpg,https://kochxbos.com/112/records/751/_cache/640w/2304.jpg,https://kochxbos.com/112/records/751/_cache/280w/2304.jpg,Zoé Byland 'Girl and Paperplanes' | 2015 |  | 40 x 60 cm | € 3400 <a href=../217/?form_112.replyids=751>FOR SALE</a>
https://kochxbos.com/112/records/752/_cache/1600w/2307.jpg,https://kochxbos.com/112/records/752/_cache/1200w/2307.jpg,https://kochxbos.com/112/records/752/_cache/640w/2307.jpg,https://kochxbos.com/112/records/752/_cache/280w/2307.jpg,Zoé Byland 'Sisters' | 2013 |  | 95 x 120 cm | SOLD
https://kochxbos.com/112/records/753/_cache/1600w/2306.jpg,https://kochxbos.com/112/records/753/_cache/1200w/2306.jpg,https://kochxbos.com/112/records/753/_cache/640w/2306.jpg,https://kochxbos.com/112/records/753/_cache/280w/2306.jpg,Zoé Byland 'Sisters with Snowy Owl' | 2015 | acrylic and airbrush | 60 x 80cm | SOLD
https://kochxbos.com/112/records/754/_cache/1600w/2310.jpg,https://kochxbos.com/112/records/754/_cache/1200w/2310.jpg,https://kochxbos.com/112/records/754/_cache/640w/2310.jpg,https://kochxbos.com/112/records/754/_cache/280w/2310.jpg,Zoé Byland 'Day at Sea' | 2014 |  | 75 x 105 cm | SOLD
https://kochxbos.com/112/records/755/_cache/1600w/2303.jpg,https://kochxbos.com/112/records/755/_cache/1200w/2303.jpg,https://kochxbos.com/112/records/755/_cache/640w/2303.jpg,https://kochxbos.com/112/records/755/_cache/280w/2303.jpg,Zoé Byland 'Still Life I' | 2014 |  | 120 x 60 cm | SOLD
https://kochxbos.com/112/records/756/_cache/1600w/zoe_heads.jpg,https://kochxbos.com/112/records/756/_cache/1200w/zoe_heads.jpg,https://kochxbos.com/112/records/756/_cache/640w/zoe_heads.jpg,https://kochxbos.com/112/records/756/_cache/280w/zoe_heads.jpg,Zoé Byland 'Head in the Clouds II' | 2015 |  |  | SOLD
https://kochxbos.com/112/records/757/_cache/1600w/2296.jpg,https://kochxbos.com/112/records/757/_cache/1200w/2296.jpg,https://kochxbos.com/112/records/757/_cache/640w/2296.jpg,https://kochxbos.com/112/records/757/_cache/280w/2296.jpg,Zoé Byland 'Girl and Fishes' | 2014 | printed on Hahnemühle photo rag bright white 310g | 30 x 35 cm | SOLD
https://kochxbos.com/112/records/758/_cache/1600w/2297.jpg,https://kochxbos.com/112/records/758/_cache/1200w/2297.jpg,https://kochxbos.com/112/records/758/_cache/640w/2297.jpg,https://kochxbos.com/112/records/758/_cache/280w/2297.jpg,Zoé Byland 'Out of Water' | 2014 | printed on Hahnemühle photo rag bright white 310g | 50 x 70 cm | SOLD
https://kochxbos.com/112/records/759/_cache/1600w/2298.jpg,https://kochxbos.com/112/records/759/_cache/1200w/2298.jpg,https://kochxbos.com/112/records/759/_cache/640w/2298.jpg,https://kochxbos.com/112/records/759/_cache/280w/2298.jpg,Zoé Byland 'Boy and Dog' | 2014 | printed on Hahnemühle photo rag bright white 310g | 40 x 50 cm | SOLD
https://kochxbos.com/112/records/760/_cache/1600w/2299.jpg,https://kochxbos.com/112/records/760/_cache/1200w/2299.jpg,https://kochxbos.com/112/records/760/_cache/640w/2299.jpg,https://kochxbos.com/112/records/760/_cache/280w/2299.jpg,Zoé Byland 'Girl and Owl' | 2014 | printed on Hahnemühle photo rag bright white 310g | 35 x 50 cm | SOLD
https://kochxbos.com/112/records/761/_cache/1600w/2300.jpg,https://kochxbos.com/112/records/761/_cache/1200w/2300.jpg,https://kochxbos.com/112/records/761/_cache/640w/2300.jpg,https://kochxbos.com/112/records/761/_cache/280w/2300.jpg,Zoé Byland 'Girl with Grammophone' | 2014 | printed on Hahnemühle photo rag bright white 310g | 30 x 40 cm | SOLD
https://kochxbos.com/112/records/762/_cache/1600w/Screen Shot 2019-04-14 at 01.52.02.png,https://kochxbos.com/112/records/762/_cache/1200w/Screen Shot 2019-04-14 at 01.52.02.png,https://kochxbos.com/112/records/762/_cache/640w/Screen Shot 2019-04-14 at 01.52.02.png,https://kochxbos.com/112/records/762/_cache/280w/Screen Shot 2019-04-14 at 01.52.02.png,Zoé Byland 'King of the Woods' | 2014 | printed on Hahnemühle photo rag bright white 310g | 45 x 65 cm | SOLD

https://kochxbos.com/112/records/588/_cache/1600w/1705.jpg,https://kochxbos.com/112/records/588/_cache/1200w/1705.jpg,https://kochxbos.com/112/records/588/_cache/640w/1705.jpg,https://kochxbos.com/112/records/588/_cache/280w/1705.jpg,"Zoé Byland 'Exhibition Poster (A2, 42x60 cm)' | 2013 |  |  | SOLD"
https://kochxbos.com/112/records/589/_cache/1600w/1701.jpg,https://kochxbos.com/112/records/589/_cache/1200w/1701.jpg,https://kochxbos.com/112/records/589/_cache/640w/1701.jpg,https://kochxbos.com/112/records/589/_cache/280w/1701.jpg,Zoé Byland 'King of the Woods' | 2013 | Acrylics on canvas | 110x160 cm | SOLD
https://kochxbos.com/112/records/590/_cache/1600w/1702.jpg,https://kochxbos.com/112/records/590/_cache/1200w/1702.jpg,https://kochxbos.com/112/records/590/_cache/640w/1702.jpg,https://kochxbos.com/112/records/590/_cache/280w/1702.jpg,Zoé Byland 'Girl and Grammophone' | 2013 | Acrylics on canvas | 110x160 cm | SOLD
https://kochxbos.com/112/records/591/_cache/1600w/1703.jpg,https://kochxbos.com/112/records/591/_cache/1200w/1703.jpg,https://kochxbos.com/112/records/591/_cache/640w/1703.jpg,https://kochxbos.com/112/records/591/_cache/280w/1703.jpg,Zoé Byland 'Sisters' | 2013 | Acrylics on canvas |  | SOLD
https://kochxbos.com/112/records/592/_cache/1600w/1704.jpg,https://kochxbos.com/112/records/592/_cache/1200w/1704.jpg,https://kochxbos.com/112/records/592/_cache/640w/1704.jpg,https://kochxbos.com/112/records/592/_cache/280w/1704.jpg,Zoé Byland 'Boy and Dog' | 2013 | Acrylics on canvas | 110x160 | SOLD