Martine Johanna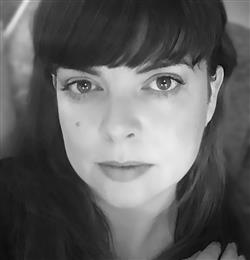 [NETHERLANDS] Martine Johanna's art is in collections of numerous private art collectors world wide.
Largely autobiographical, Johanna uses color, form, and composition as language. She
investigates the role of women within a
patriarchal culture. Beauty, adolescence, oppression, inner worlds and dualism are themes recurring in her wordless communication with both figurative and abstract elements.
Martine Johanna is a visual artist, best known for her colorful paintings of abstract and figurative elements. Her autobiographical work, seemingly light-hearted, explores the duality between youthful naivety and fear-riddled adulthood. The delicately painted figures share a sense of complete immersion in their own "internal psychic landscape." Martine Johanna has received international acclaim and regularly exhibits in the US.

-----

Martine Johanna is beeldend kunstenaar, vooral bekend om haar kleurrijke schilderijen met abstracte en figuratieve elementen. Haar autobiografische werk, schijnbaar luchtig, verkent de dualiteit tussen jeugdige naïviteit en met angst-doorzeefde volwassenheid. De delicaat geschilderde figuren delen een gevoel van volledige onderdompeling in hun eigen "interne psychische landschap." Martine Johanna heeft internationaal succes en exposeert regelmatig in de VS.
https://kochxbos.com/112/records/2040/_cache/1600w/1800_pix_coming_apart.jpg,https://kochxbos.com/112/records/2040/_cache/1200w/1800_pix_coming_apart.jpg,https://kochxbos.com/112/records/2040/_cache/640w/1800_pix_coming_apart.jpg,https://kochxbos.com/112/records/2040/_cache/280w/1800_pix_coming_apart.jpg,Martine Johanna 'Coming Apart' | 2022 | Acrylic on panel | 70 x 100 cm | SOLD
https://kochxbos.com/112/records/2038/_cache/1600w/subdue1800px.jpg,https://kochxbos.com/112/records/2038/_cache/1200w/subdue1800px.jpg,https://kochxbos.com/112/records/2038/_cache/640w/subdue1800px.jpg,https://kochxbos.com/112/records/2038/_cache/280w/subdue1800px.jpg,Martine Johanna 'Subdue' | 2022 | Acrylic on hardwood and box frame | 51 x 41 x 3.5 cm | € 3500 <a href=../217/?form_112.replyids=2038>FOR SALE</a>
https://kochxbos.com/112/records/2010/_cache/1600w/overcome1800px.jpg,https://kochxbos.com/112/records/2010/_cache/1200w/overcome1800px.jpg,https://kochxbos.com/112/records/2010/_cache/640w/overcome1800px.jpg,https://kochxbos.com/112/records/2010/_cache/280w/overcome1800px.jpg,Martine Johanna 'Overcome' | 2022 | Acrylic on hardwood and box frame | 51 x 41 x 3.5 cm | SOLD
https://kochxbos.com/112/records/2054/_cache/1600w/martine_johanna_twin_coves_beach_edition.jpg,https://kochxbos.com/112/records/2054/_cache/1200w/martine_johanna_twin_coves_beach_edition.jpg,https://kochxbos.com/112/records/2054/_cache/640w/martine_johanna_twin_coves_beach_edition.jpg,https://kochxbos.com/112/records/2054/_cache/280w/martine_johanna_twin_coves_beach_edition.jpg,Martine Johanna 'Twin Coves Beach Edition' | 2022 | textured fine art paper 280 gram | 42 x 59 cm | € 100 <a href=../217/?form_112.replyids=2054>FOR SALE</a>
https://kochxbos.com/112/records/2036/_cache/1600w/twincovesbeach1800px.jpg,https://kochxbos.com/112/records/2036/_cache/1200w/twincovesbeach1800px.jpg,https://kochxbos.com/112/records/2036/_cache/640w/twincovesbeach1800px.jpg,https://kochxbos.com/112/records/2036/_cache/280w/twincovesbeach1800px.jpg,Martine Johanna 'Twin Coves Beach' | 2022 | Acrylic on linen with aluminium stretcher | 170 x 120 x 5 cm | <a href=../218/?form_112.replyids=2036>ASK FOR PRICE</a>
https://kochxbos.com/112/records/2039/_cache/1600w/voices1800px.jpg,https://kochxbos.com/112/records/2039/_cache/1200w/voices1800px.jpg,https://kochxbos.com/112/records/2039/_cache/640w/voices1800px.jpg,https://kochxbos.com/112/records/2039/_cache/280w/voices1800px.jpg,Martine Johanna 'Voices' | 2022 | Acrylic on panel and box frame | 43 x 33 x 5 cm | SOLD
https://kochxbos.com/112/records/2037/_cache/1600w/underether1800px.jpg,https://kochxbos.com/112/records/2037/_cache/1200w/underether1800px.jpg,https://kochxbos.com/112/records/2037/_cache/640w/underether1800px.jpg,https://kochxbos.com/112/records/2037/_cache/280w/underether1800px.jpg,Martine Johanna 'Under Ether' | 2022 | Acrylic on panel and box frame | 100 x 78 x 5 cm | SOLD

https://kochxbos.com/112/records/1482/_cache/1600w/mh2020_harmony-paper-blackwhite.jpg,https://kochxbos.com/112/records/1482/_cache/1200w/mh2020_harmony-paper-blackwhite.jpg,https://kochxbos.com/112/records/1482/_cache/640w/mh2020_harmony-paper-blackwhite.jpg,https://kochxbos.com/112/records/1482/_cache/280w/mh2020_harmony-paper-blackwhite.jpg,Martine Johanna 'Harmony' | 2020 | graphite on paper | 57 x 44 cm | SOLD
https://kochxbos.com/112/records/1483/_cache/1600w/mh2020_Harmony.jpg,https://kochxbos.com/112/records/1483/_cache/1200w/mh2020_Harmony.jpg,https://kochxbos.com/112/records/1483/_cache/640w/mh2020_Harmony.jpg,https://kochxbos.com/112/records/1483/_cache/280w/mh2020_Harmony.jpg,Martine Johanna '' | 0 |  |  | SOLD
https://kochxbos.com/112/records/1399/_cache/1600w/oh-how-I-love-you-RGB-webbbb.jpg,https://kochxbos.com/112/records/1399/_cache/1200w/oh-how-I-love-you-RGB-webbbb.jpg,https://kochxbos.com/112/records/1399/_cache/640w/oh-how-I-love-you-RGB-webbbb.jpg,https://kochxbos.com/112/records/1399/_cache/280w/oh-how-I-love-you-RGB-webbbb.jpg,Martine Johanna 'Oh... How I Love You' | 2020 | acrylic on linen; aluminium frame | 130 x 100 x 5 | SOLD
https://kochxbos.com/112/records/1611/_cache/1600w/martinejohanna2016.png,https://kochxbos.com/112/records/1611/_cache/1200w/martinejohanna2016.png,https://kochxbos.com/112/records/1611/_cache/640w/martinejohanna2016.png,https://kochxbos.com/112/records/1611/_cache/280w/martinejohanna2016.png,Martine Johanna 'Accompanied by Strangers' | 2016 | Acrylic on linen; aluminium frame | 120 x 150 cm | <a href=../218/?form_112.replyids=1611>ASK FOR PRICE</a>
https://kochxbos.com/112/records/1470/_cache/1600w/mh2020_oh-how-i-love-you2.jpg,https://kochxbos.com/112/records/1470/_cache/1200w/mh2020_oh-how-i-love-you2.jpg,https://kochxbos.com/112/records/1470/_cache/640w/mh2020_oh-how-i-love-you2.jpg,https://kochxbos.com/112/records/1470/_cache/280w/mh2020_oh-how-i-love-you2.jpg,"Martine Johanna 'Oh how I love you' | 2020 | acrylic on panel | 130 x 100 x 4,5 cm | SOLD"
https://kochxbos.com/112/records/1484/_cache/1600w/mh2020_Harmony2.jpg,https://kochxbos.com/112/records/1484/_cache/1200w/mh2020_Harmony2.jpg,https://kochxbos.com/112/records/1484/_cache/640w/mh2020_Harmony2.jpg,https://kochxbos.com/112/records/1484/_cache/280w/mh2020_Harmony2.jpg,Martine Johanna 'Harmony' | 2020 | Acrylic on panel | 100 x 70 x 5 cm | SOLD
https://kochxbos.com/112/records/1469/_cache/1600w/mh2020_from-the-dark.jpg,https://kochxbos.com/112/records/1469/_cache/1200w/mh2020_from-the-dark.jpg,https://kochxbos.com/112/records/1469/_cache/640w/mh2020_from-the-dark.jpg,https://kochxbos.com/112/records/1469/_cache/280w/mh2020_from-the-dark.jpg,"Martine Johanna 'From the Dark' | 2020 | Acrylic on panel | 40 x 30 x 3,5 cm | SOLD"
https://kochxbos.com/112/records/1480/_cache/1600w/mh2020_from-the-dark2.jpg,https://kochxbos.com/112/records/1480/_cache/1200w/mh2020_from-the-dark2.jpg,https://kochxbos.com/112/records/1480/_cache/640w/mh2020_from-the-dark2.jpg,https://kochxbos.com/112/records/1480/_cache/280w/mh2020_from-the-dark2.jpg,"Martine Johanna 'From the dark' | 2020 |  | 40 x 30 x 3,5 cm | SOLD"
https://kochxbos.com/112/records/1486/_cache/1600w/mh2020_heartscapes-framed.jpg,https://kochxbos.com/112/records/1486/_cache/1200w/mh2020_heartscapes-framed.jpg,https://kochxbos.com/112/records/1486/_cache/640w/mh2020_heartscapes-framed.jpg,https://kochxbos.com/112/records/1486/_cache/280w/mh2020_heartscapes-framed.jpg,Martine Johanna 'Heartscapes' | 2020 | acrylic painting | 43 x 57 cm | SOLD
https://kochxbos.com/112/records/1485/_cache/1600w/mh2020_heartscapes-blackwhite.jpg,https://kochxbos.com/112/records/1485/_cache/1200w/mh2020_heartscapes-blackwhite.jpg,https://kochxbos.com/112/records/1485/_cache/640w/mh2020_heartscapes-blackwhite.jpg,https://kochxbos.com/112/records/1485/_cache/280w/mh2020_heartscapes-blackwhite.jpg,"Martine Johanna 'Heartscapes' | 2020 | Graphite on paper | 63 x 33,5 cm | SOLD"
https://kochxbos.com/112/records/1474/_cache/1600w/mh2020_rose-colored1.jpg,https://kochxbos.com/112/records/1474/_cache/1200w/mh2020_rose-colored1.jpg,https://kochxbos.com/112/records/1474/_cache/640w/mh2020_rose-colored1.jpg,https://kochxbos.com/112/records/1474/_cache/280w/mh2020_rose-colored1.jpg,"Martine Johanna 'Rose-Colored ' | 2020 | Acrylic on panel | 49,5 x 30 x 5 cm | SOLD"
https://kochxbos.com/112/records/1473/_cache/1600w/mh2020_rose-colored.jpg,https://kochxbos.com/112/records/1473/_cache/1200w/mh2020_rose-colored.jpg,https://kochxbos.com/112/records/1473/_cache/640w/mh2020_rose-colored.jpg,https://kochxbos.com/112/records/1473/_cache/280w/mh2020_rose-colored.jpg,"Martine Johanna 'Rose-Colored ' | 2020 | Acrylic on panel | 49,5 x 30 x 5 cm | SOLD"
https://kochxbos.com/112/records/1476/_cache/1600w/mh2020_white-horse-framed.jpg,https://kochxbos.com/112/records/1476/_cache/1200w/mh2020_white-horse-framed.jpg,https://kochxbos.com/112/records/1476/_cache/640w/mh2020_white-horse-framed.jpg,https://kochxbos.com/112/records/1476/_cache/280w/mh2020_white-horse-framed.jpg,Martine Johanna 'White Horse - framed' | 2020 | drawing beautifully framed | 57 x 43 cm | SOLD
https://kochxbos.com/112/records/1477/_cache/1600w/mh2020_white-horse.jpg,https://kochxbos.com/112/records/1477/_cache/1200w/mh2020_white-horse.jpg,https://kochxbos.com/112/records/1477/_cache/640w/mh2020_white-horse.jpg,https://kochxbos.com/112/records/1477/_cache/280w/mh2020_white-horse.jpg,Martine Johanna 'White Horse - framed' | 2020 | Graphite on paper | 57 x 43 cm | SOLD
https://kochxbos.com/112/records/1478/_cache/1600w/mh2020_with-me2.jpg,https://kochxbos.com/112/records/1478/_cache/1200w/mh2020_with-me2.jpg,https://kochxbos.com/112/records/1478/_cache/640w/mh2020_with-me2.jpg,https://kochxbos.com/112/records/1478/_cache/280w/mh2020_with-me2.jpg,Martine Johanna 'With Me' | 2020 | Acrylic on panel | 70 x 50 x 5 cm | SOLD
https://kochxbos.com/112/records/1479/_cache/1600w/mh2020_with-me.jpg,https://kochxbos.com/112/records/1479/_cache/1200w/mh2020_with-me.jpg,https://kochxbos.com/112/records/1479/_cache/640w/mh2020_with-me.jpg,https://kochxbos.com/112/records/1479/_cache/280w/mh2020_with-me.jpg,Martine Johanna 'With Me' | 2020 | acrylic on panel | Size: 70 x 50 x 5 cm | SOLD
https://kochxbos.com/112/records/1481/_cache/1600w/mh2020_harmony-framed.jpg,https://kochxbos.com/112/records/1481/_cache/1200w/mh2020_harmony-framed.jpg,https://kochxbos.com/112/records/1481/_cache/640w/mh2020_harmony-framed.jpg,https://kochxbos.com/112/records/1481/_cache/280w/mh2020_harmony-framed.jpg,Martine Johanna 'Harmony' | 2020 | graphite on paper | 57 x 44 cm | SOLD
https://kochxbos.com/112/records/1472/_cache/1600w/mh2020_room01.jpg,https://kochxbos.com/112/records/1472/_cache/1200w/mh2020_room01.jpg,https://kochxbos.com/112/records/1472/_cache/640w/mh2020_room01.jpg,https://kochxbos.com/112/records/1472/_cache/280w/mh2020_room01.jpg,Martine Johanna '' | 0 |  |  | SOLD
https://kochxbos.com/112/records/1471/_cache/1600w/mh2020_edition_Poison-frog.jpg,https://kochxbos.com/112/records/1471/_cache/1200w/mh2020_edition_Poison-frog.jpg,https://kochxbos.com/112/records/1471/_cache/640w/mh2020_edition_Poison-frog.jpg,https://kochxbos.com/112/records/1471/_cache/280w/mh2020_edition_Poison-frog.jpg,Martine Johanna 'Harmony Edition' | 2020 |  | 58 x 40 cm | € 100 <a href=../217/?form_112.replyids=1471>FOR SALE</a>

https://kochxbos.com/112/records/1021/_cache/1600w/arcadia_180x140_acrylic_on_linen_web.jpg,https://kochxbos.com/112/records/1021/_cache/1200w/arcadia_180x140_acrylic_on_linen_web.jpg,https://kochxbos.com/112/records/1021/_cache/640w/arcadia_180x140_acrylic_on_linen_web.jpg,https://kochxbos.com/112/records/1021/_cache/280w/arcadia_180x140_acrylic_on_linen_web.jpg,Martine Johanna 'Dark Matter' | 2018 | Acrylic on linen | 180x140cm | SOLD
https://kochxbos.com/112/records/1071/_cache/1600w/3132.jpg,https://kochxbos.com/112/records/1071/_cache/1200w/3132.jpg,https://kochxbos.com/112/records/1071/_cache/640w/3132.jpg,https://kochxbos.com/112/records/1071/_cache/280w/3132.jpg,Martine Johanna 'Day Dreaming' | 2018 | Acrylic on panel | 50 x 70 cm / 19.7 x 27.5 inch | SOLD
https://kochxbos.com/112/records/1278/_cache/1600w/all_the_way_down_100x70_acrylic_on_panel_web.jpg,https://kochxbos.com/112/records/1278/_cache/1200w/all_the_way_down_100x70_acrylic_on_panel_web.jpg,https://kochxbos.com/112/records/1278/_cache/640w/all_the_way_down_100x70_acrylic_on_panel_web.jpg,https://kochxbos.com/112/records/1278/_cache/280w/all_the_way_down_100x70_acrylic_on_panel_web.jpg,Martine Johanna 'All the way down' | 2018 | acrylic painting | 70 x 100 cm | SOLD
https://kochxbos.com/112/records/1279/_cache/1600w/another_day_70x50_acrylic_on_panel_web.jpg,https://kochxbos.com/112/records/1279/_cache/1200w/another_day_70x50_acrylic_on_panel_web.jpg,https://kochxbos.com/112/records/1279/_cache/640w/another_day_70x50_acrylic_on_panel_web.jpg,https://kochxbos.com/112/records/1279/_cache/280w/another_day_70x50_acrylic_on_panel_web.jpg,Martine Johanna 'Another Day' | 2018 | Acrylic painting | 50 x 70 cm | SOLD
https://kochxbos.com/112/records/1283/_cache/1600w/sum_of_all_parts_160x120_acrylic_on_linen_web.jpg,https://kochxbos.com/112/records/1283/_cache/1200w/sum_of_all_parts_160x120_acrylic_on_linen_web.jpg,https://kochxbos.com/112/records/1283/_cache/640w/sum_of_all_parts_160x120_acrylic_on_linen_web.jpg,https://kochxbos.com/112/records/1283/_cache/280w/sum_of_all_parts_160x120_acrylic_on_linen_web.jpg,Martine Johanna 'Sum of all parts' | 2018 | acrylic on canvas | 120 x 160 cm | SOLD
https://kochxbos.com/112/records/1285/_cache/1600w/treasure_island_100x70_acrylic_on_panel_web.jpg,https://kochxbos.com/112/records/1285/_cache/1200w/treasure_island_100x70_acrylic_on_panel_web.jpg,https://kochxbos.com/112/records/1285/_cache/640w/treasure_island_100x70_acrylic_on_panel_web.jpg,https://kochxbos.com/112/records/1285/_cache/280w/treasure_island_100x70_acrylic_on_panel_web.jpg,Martine Johanna 'Treasure Island' | 2018 | acrylic on panel | 70 x 100 cm | SOLD
https://kochxbos.com/112/records/1284/_cache/1600w/iezccy80affhdfwu1t96.jpg,https://kochxbos.com/112/records/1284/_cache/1200w/iezccy80affhdfwu1t96.jpg,https://kochxbos.com/112/records/1284/_cache/640w/iezccy80affhdfwu1t96.jpg,https://kochxbos.com/112/records/1284/_cache/280w/iezccy80affhdfwu1t96.jpg,Martine Johanna 'Support System' | 2018 | acrylic painting | 49 x 59 cm | SOLD