Ray Caesar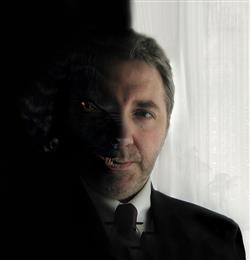 Ray Caesar's work has been shown by The Metropolitan, The Bristol Museum, The MoMA, as well as The Guggenheim. Additionally, his work has been selected to represent Canada in the Lyon Biennale.
Major collectors include the Hearst Family, Madonna, Spotify, and Ricardo Tisci (Givenchy).
Born in London to a working class family, Ray Caesar attended obedience classes and art colleges. Later he worked for a children's hospital for almost 20 years which profoundly influenced his artistic career. In the Art and Photography Department at The Hospital For Sick Children, Caesar documented such things as child abuse, surgical reconstruction, psychology, and animal research. It was here that Caesar witnessed the miracles and great sadnesses that have impacted his unique vision.
Following a tenure working in computer modeling, digital animation, and visual effects for television and film, Caesar mastered Maya, a complex 3D modeling software used for digital animation effects in the film and video game industries. Caesar discovered that Maya could be a medium for a new kind of artwork and began creating his masterful surrealist art. He currently focuses on his artistic career full-time, spending hundreds of hours to build a single digital image. His richly textured models and landscapes have earned him a reputation as the most influential digital artist of his generation. Voyeurism, escapism, human cruelty, and disguise are reoccurring themes in Caesar's work.

London born on 1958, Ray Caesar is an international well- known artist, undisputed leader of Digital Art. He has worked in several fields, attended many art schools, and realised building project works for architectural studios, agencies of digital technique, computer modelling, digital animation and has also made visual effects for both television and film.

Each one of his works is like a little piece of a big puzzle. Like Mary Shelley who deconstructs the human body in order to reconstruct it, so does Ray Caesar. In his creations he gets together fragments of decorative styles and architectural ages to give birth to a timeless beauty. In this mix of Art Deco, Victorian style and visual codes from the early 1900's, his works really stand out for their personality and charm. Absolute master of digital technique he is a reference point to all the artists who faces this artistic discipline. Caesar works in Maya (a 3D modelling software used for digital animation effects in film and game industries), using it to create his figures as well as the virtual realms in which they exist.

Through the program, he builds digital models with invisible skeletons and anatomical joints that can be bent and manipulated to assume any pose. He wraps the models in rich textures, adding hair, skin, eyelashes and fingernails. Then places them in digitally lit, impeccably detailed 3D environments built with architectural layers, windows, wallpapers, curtains and furnishings.

Caesar's meticulous process incorporates elements of drawing, painting, collage and sculpture, working countless hours to achieve every remarkably intricate tableau. Further emphasising his sculptural technique, Caesar compares his process of 2D printmaking with imagery created in 3D as being similar to the practice of capturing stills from video and film.With full control over dressing, posing and lighting his figures as well as every element of their surroundings, Caesar's craft is an advanced extension of a childhood obsession-playing with dolls.

Fantasy, escapism, human cruelty and disguise are reoccurring themes explored within his dramatic narratives. Betraying the seemingly child-like innocence of the figures is their piercing, knowing gaze-exposing inner strength in contrast with their fragile physical appearance. Dark details manifest from deep within the artist's vast imagination to define simulated realities, transporting the viewer into sanctuaries created for his lost ghost- children who emerge from shadows into safe refuge, carrying macabre secrets and hidden truths.
https://kochxbos.com/112/records/2299/_cache/1600w/RayCaesar_TimeEnough_1900x1900.jpg,https://kochxbos.com/112/records/2299/_cache/1200w/RayCaesar_TimeEnough_1900x1900.jpg,https://kochxbos.com/112/records/2299/_cache/640w/RayCaesar_TimeEnough_1900x1900.jpg,https://kochxbos.com/112/records/2299/_cache/280w/RayCaesar_TimeEnough_1900x1900.jpg,Ray Caesar 'Time Enough' | 2023 | Digital Ultrachrome on Archival Paper | 76 x 76 | € 2950 <a href=../217/?form_112.replyids=2299>FOR SALE</a>
https://kochxbos.com/112/records/2297/_cache/1600w/RayCaesar_Demimonde_1900x1900_copy.jpg,https://kochxbos.com/112/records/2297/_cache/1200w/RayCaesar_Demimonde_1900x1900_copy.jpg,https://kochxbos.com/112/records/2297/_cache/640w/RayCaesar_Demimonde_1900x1900_copy.jpg,https://kochxbos.com/112/records/2297/_cache/280w/RayCaesar_Demimonde_1900x1900_copy.jpg,Ray Caesar 'Demimonde' | 2023 | Digital Ultrachrome on Archival Paper | 102 x 61 cm | <a href=../218/?form_112.replyids=2297>ASK FOR PRICE</a>
https://kochxbos.com/112/records/2298/_cache/1600w/RayCaesar_Kaffe_1900x1900.jpg,https://kochxbos.com/112/records/2298/_cache/1200w/RayCaesar_Kaffe_1900x1900.jpg,https://kochxbos.com/112/records/2298/_cache/640w/RayCaesar_Kaffe_1900x1900.jpg,https://kochxbos.com/112/records/2298/_cache/280w/RayCaesar_Kaffe_1900x1900.jpg,Ray Caesar 'Kaffe' | 2019 | Digital Ultrachrome on Archival Paper | 91 x 76 cm | <a href=../218/?form_112.replyids=2298>ASK FOR PRICE</a>
https://kochxbos.com/112/records/2300/_cache/1600w/RayCaesar_Charon_1900x1900.jpg,https://kochxbos.com/112/records/2300/_cache/1200w/RayCaesar_Charon_1900x1900.jpg,https://kochxbos.com/112/records/2300/_cache/640w/RayCaesar_Charon_1900x1900.jpg,https://kochxbos.com/112/records/2300/_cache/280w/RayCaesar_Charon_1900x1900.jpg,Ray Caesar 'Charon' | 2021 | digital Ultrachrome on Archival Paper | 76 x 76 cm | <a href=../218/?form_112.replyids=2300>ASK FOR PRICE</a>
https://kochxbos.com/112/records/2301/_cache/1600w/RayCaesar_Solitude_1900x1900.jpg,https://kochxbos.com/112/records/2301/_cache/1200w/RayCaesar_Solitude_1900x1900.jpg,https://kochxbos.com/112/records/2301/_cache/640w/RayCaesar_Solitude_1900x1900.jpg,https://kochxbos.com/112/records/2301/_cache/280w/RayCaesar_Solitude_1900x1900.jpg,Ray Caesar 'In This Bliss Called Solitude' | 2023 | Digital Ultrachrome on Archival Paper | 102 x 76 cm | <a href=../218/?form_112.replyids=2301>ASK FOR PRICE</a>
https://kochxbos.com/112/records/2302/_cache/1600w/RayCaesar_QueenOfLineOne_1900x1900.jpg,https://kochxbos.com/112/records/2302/_cache/1200w/RayCaesar_QueenOfLineOne_1900x1900.jpg,https://kochxbos.com/112/records/2302/_cache/640w/RayCaesar_QueenOfLineOne_1900x1900.jpg,https://kochxbos.com/112/records/2302/_cache/280w/RayCaesar_QueenOfLineOne_1900x1900.jpg,Ray Caesar 'Queen of Line 1' | 2021 | Digital Ultrachrome on Archival Paper | 76 x 102 cm | <a href=../218/?form_112.replyids=2302>ASK FOR PRICE</a>
https://kochxbos.com/112/records/1898/_cache/1600w/Frame-Ray-Caesar_Forgotten_FRAMED-CMYK.jpg,https://kochxbos.com/112/records/1898/_cache/1200w/Frame-Ray-Caesar_Forgotten_FRAMED-CMYK.jpg,https://kochxbos.com/112/records/1898/_cache/640w/Frame-Ray-Caesar_Forgotten_FRAMED-CMYK.jpg,https://kochxbos.com/112/records/1898/_cache/280w/Frame-Ray-Caesar_Forgotten_FRAMED-CMYK.jpg,Ray Caesar 'The Forgotten' | 2021 | Digital Ultrachrome on Archival Paper | 125 x 100 cm | <a href=../218/?form_112.replyids=1898>ASK FOR PRICE</a>
https://kochxbos.com/112/records/2306/_cache/1600w/Kochxbos_RayCaesar_BVVPHOTOGRAPHY-HIGHRES-8.jpg,https://kochxbos.com/112/records/2306/_cache/1200w/Kochxbos_RayCaesar_BVVPHOTOGRAPHY-HIGHRES-8.jpg,https://kochxbos.com/112/records/2306/_cache/640w/Kochxbos_RayCaesar_BVVPHOTOGRAPHY-HIGHRES-8.jpg,https://kochxbos.com/112/records/2306/_cache/280w/Kochxbos_RayCaesar_BVVPHOTOGRAPHY-HIGHRES-8.jpg,Ray Caesar 'Overview exhibition' | 0 |  |  | SOLD
https://kochxbos.com/112/records/2304/_cache/1600w/Kochxbos_RayCaesar_BVVPHOTOGRAPHY-HIGHRES-9.jpg,https://kochxbos.com/112/records/2304/_cache/1200w/Kochxbos_RayCaesar_BVVPHOTOGRAPHY-HIGHRES-9.jpg,https://kochxbos.com/112/records/2304/_cache/640w/Kochxbos_RayCaesar_BVVPHOTOGRAPHY-HIGHRES-9.jpg,https://kochxbos.com/112/records/2304/_cache/280w/Kochxbos_RayCaesar_BVVPHOTOGRAPHY-HIGHRES-9.jpg,Ray Caesar 'Overview exhibition' | 0 |  |  | SOLD
https://kochxbos.com/112/records/2307/_cache/1600w/Kochxbos_RayCaesar_BVVPHOTOGRAPHY-HIGHRES-4.jpg,https://kochxbos.com/112/records/2307/_cache/1200w/Kochxbos_RayCaesar_BVVPHOTOGRAPHY-HIGHRES-4.jpg,https://kochxbos.com/112/records/2307/_cache/640w/Kochxbos_RayCaesar_BVVPHOTOGRAPHY-HIGHRES-4.jpg,https://kochxbos.com/112/records/2307/_cache/280w/Kochxbos_RayCaesar_BVVPHOTOGRAPHY-HIGHRES-4.jpg,Ray Caesar 'Overview exhibition' | 0 |  |  | SOLD
https://kochxbos.com/112/records/2308/_cache/1600w/Kochxbos_RayCaesar_BVVPHOTOGRAPHY-HIGHRES-5.jpg,https://kochxbos.com/112/records/2308/_cache/1200w/Kochxbos_RayCaesar_BVVPHOTOGRAPHY-HIGHRES-5.jpg,https://kochxbos.com/112/records/2308/_cache/640w/Kochxbos_RayCaesar_BVVPHOTOGRAPHY-HIGHRES-5.jpg,https://kochxbos.com/112/records/2308/_cache/280w/Kochxbos_RayCaesar_BVVPHOTOGRAPHY-HIGHRES-5.jpg,Ray Caesar 'Overview exhibition' | 0 |  |  | SOLD
https://kochxbos.com/112/records/2305/_cache/1600w/Kochxbos_RayCaesar_BVVPHOTOGRAPHY-HIGHRES-10.jpg,https://kochxbos.com/112/records/2305/_cache/1200w/Kochxbos_RayCaesar_BVVPHOTOGRAPHY-HIGHRES-10.jpg,https://kochxbos.com/112/records/2305/_cache/640w/Kochxbos_RayCaesar_BVVPHOTOGRAPHY-HIGHRES-10.jpg,https://kochxbos.com/112/records/2305/_cache/280w/Kochxbos_RayCaesar_BVVPHOTOGRAPHY-HIGHRES-10.jpg,Ray Caesar 'Overview exhibition' | 0 |  |  | SOLD

https://kochxbos.com/112/records/1651/_cache/1600w/Naiad-framed-IMG_6967.jpg,https://kochxbos.com/112/records/1651/_cache/1200w/Naiad-framed-IMG_6967.jpg,https://kochxbos.com/112/records/1651/_cache/640w/Naiad-framed-IMG_6967.jpg,https://kochxbos.com/112/records/1651/_cache/280w/Naiad-framed-IMG_6967.jpg,Ray Caesar 'Naiad - framed with museum glass' | 2019 | Utrachrome Ink on Paper | 61 x 61 cm | <a href=../218/?form_112.replyids=1651>ASK FOR PRICE</a>
https://kochxbos.com/112/records/1652/_cache/1600w/RayCaesar_Xanadu24x20_press_hires.jpg,https://kochxbos.com/112/records/1652/_cache/1200w/RayCaesar_Xanadu24x20_press_hires.jpg,https://kochxbos.com/112/records/1652/_cache/640w/RayCaesar_Xanadu24x20_press_hires.jpg,https://kochxbos.com/112/records/1652/_cache/280w/RayCaesar_Xanadu24x20_press_hires.jpg,Ray Caesar 'Xanadu' | 2019 | Digital Ultrachrome and Acrylic on Wood Panel | 20 x 24 inch | SOLD
https://kochxbos.com/112/records/1654/_cache/1600w/LaMaisonDesChats_30x40_web.jpg,https://kochxbos.com/112/records/1654/_cache/1200w/LaMaisonDesChats_30x40_web.jpg,https://kochxbos.com/112/records/1654/_cache/640w/LaMaisonDesChats_30x40_web.jpg,https://kochxbos.com/112/records/1654/_cache/280w/LaMaisonDesChats_30x40_web.jpg,Ray Caesar 'Les Maison des Chats' | 2019 | Digital Ultrachrome on Archival Paper | 30 x 40 inch | <a href=../218/?form_112.replyids=1654>ASK FOR PRICE</a>
https://kochxbos.com/112/records/1656/_cache/1600w/Pin_16x20_web.jpg,https://kochxbos.com/112/records/1656/_cache/1200w/Pin_16x20_web.jpg,https://kochxbos.com/112/records/1656/_cache/640w/Pin_16x20_web.jpg,https://kochxbos.com/112/records/1656/_cache/280w/Pin_16x20_web.jpg,Ray Caesar 'Pin' | 2019 | Digital Ultrachrome and Acrylic on Wood Panel | 20 x 16 inch | SOLD
https://kochxbos.com/112/records/1657/_cache/1600w/MovingTimeAndSpace_16x20_web.jpg,https://kochxbos.com/112/records/1657/_cache/1200w/MovingTimeAndSpace_16x20_web.jpg,https://kochxbos.com/112/records/1657/_cache/640w/MovingTimeAndSpace_16x20_web.jpg,https://kochxbos.com/112/records/1657/_cache/280w/MovingTimeAndSpace_16x20_web.jpg,"Ray Caesar 'Moving Time and Space' | 2019 | Digital Ultrachrome and Acrylic on Canvas | 16x20"" | <a href=../218/?form_112.replyids=1657>ASK FOR PRICE</a>"
https://kochxbos.com/112/records/1658/_cache/1600w/raycaesar_herworldlyposessions.jpg,https://kochxbos.com/112/records/1658/_cache/1200w/raycaesar_herworldlyposessions.jpg,https://kochxbos.com/112/records/1658/_cache/640w/raycaesar_herworldlyposessions.jpg,https://kochxbos.com/112/records/1658/_cache/280w/raycaesar_herworldlyposessions.jpg,Ray Caesar 'Her Worldly possessions' | 0 |  |  | SOLD
https://kochxbos.com/112/records/1653/_cache/1600w/RayCaesar_DailyConstitutional_2020_digitalultrachrome_24x30_Editionof20.jpg,https://kochxbos.com/112/records/1653/_cache/1200w/RayCaesar_DailyConstitutional_2020_digitalultrachrome_24x30_Editionof20.jpg,https://kochxbos.com/112/records/1653/_cache/640w/RayCaesar_DailyConstitutional_2020_digitalultrachrome_24x30_Editionof20.jpg,https://kochxbos.com/112/records/1653/_cache/280w/RayCaesar_DailyConstitutional_2020_digitalultrachrome_24x30_Editionof20.jpg,Ray Caesar 'The Daily Constitutional' | 2020 | Digital Ultrachrome and Acrylic on archival paper | 75 x 59 cm | <a href=../218/?form_112.replyids=1653>ASK FOR PRICE</a>
https://kochxbos.com/112/records/1655/_cache/1600w/minotauras-oneofakind_orig.jpg,https://kochxbos.com/112/records/1655/_cache/1200w/minotauras-oneofakind_orig.jpg,https://kochxbos.com/112/records/1655/_cache/640w/minotauras-oneofakind_orig.jpg,https://kochxbos.com/112/records/1655/_cache/280w/minotauras-oneofakind_orig.jpg,Ray Caesar 'Minioraur' | 2020 | Digital Ultrachrome and Acrylic on Wood Panel | 24x24 inch 61x61cm | <a href=../218/?form_112.replyids=1655>ASK FOR PRICE</a>
https://kochxbos.com/112/records/2116/_cache/1600w/ACallToArms_web.jpg,https://kochxbos.com/112/records/2116/_cache/1200w/ACallToArms_web.jpg,https://kochxbos.com/112/records/2116/_cache/640w/ACallToArms_web.jpg,https://kochxbos.com/112/records/2116/_cache/280w/ACallToArms_web.jpg,Ray Caesar 'A Call To Arms' | 2019 | Digital Ultrachrome and Acrylic on Wood Panel | 30 x 40 inch | <a href=../218/?form_112.replyids=2116>ASK FOR PRICE</a>
https://kochxbos.com/112/records/1642/_cache/1600w/RayCaesar_DailyConstitutional_2020_digitalultrachrome_24x30_Editionof20.jpg,https://kochxbos.com/112/records/1642/_cache/1200w/RayCaesar_DailyConstitutional_2020_digitalultrachrome_24x30_Editionof20.jpg,https://kochxbos.com/112/records/1642/_cache/640w/RayCaesar_DailyConstitutional_2020_digitalultrachrome_24x30_Editionof20.jpg,https://kochxbos.com/112/records/1642/_cache/280w/RayCaesar_DailyConstitutional_2020_digitalultrachrome_24x30_Editionof20.jpg,Ray Caesar 'The Daily Constitutional' | 2020 | Digital Ultrachrome on Archival Paper | 75 x 59 cm | <a href=../218/?form_112.replyids=1642>ASK FOR PRICE</a>

https://kochxbos.com/112/records/931/_cache/1600w/2852.jpg,https://kochxbos.com/112/records/931/_cache/1200w/2852.jpg,https://kochxbos.com/112/records/931/_cache/640w/2852.jpg,https://kochxbos.com/112/records/931/_cache/280w/2852.jpg,Ray Caesar 'Old Wounds Study' | 2016 | Digital Ultrachrome on Archival Paper | 41 x 51 cm | SOLD
https://kochxbos.com/112/records/933/_cache/1600w/2855.jpg,https://kochxbos.com/112/records/933/_cache/1200w/2855.jpg,https://kochxbos.com/112/records/933/_cache/640w/2855.jpg,https://kochxbos.com/112/records/933/_cache/280w/2855.jpg,Ray Caesar 'Girl in a Red Chaperone' | 2015 | C-print on dibond | 41 x 51 cm | SOLD
https://kochxbos.com/112/records/928/_cache/1600w/2792.jpg,https://kochxbos.com/112/records/928/_cache/1200w/2792.jpg,https://kochxbos.com/112/records/928/_cache/640w/2792.jpg,https://kochxbos.com/112/records/928/_cache/280w/2792.jpg,Ray Caesar 'Royale' | 2016 | Digital Ultrachrome on Archival Paper | 76 x 76 cm / 30 X 30 inch | SOLD
https://kochxbos.com/112/records/934/_cache/1600w/2856.jpg,https://kochxbos.com/112/records/934/_cache/1200w/2856.jpg,https://kochxbos.com/112/records/934/_cache/640w/2856.jpg,https://kochxbos.com/112/records/934/_cache/280w/2856.jpg,Ray Caesar 'Old Wounds' | 2016 | Digital Ultrachrome on Archival Paper | 61 x 61 cm / 24 X 24 inch | SOLD
https://kochxbos.com/112/records/936/_cache/1600w/2858.jpg,https://kochxbos.com/112/records/936/_cache/1200w/2858.jpg,https://kochxbos.com/112/records/936/_cache/640w/2858.jpg,https://kochxbos.com/112/records/936/_cache/280w/2858.jpg,Ray Caesar 'The Curative' | 2016 | Digital Ultrachrome on Archival Paper | 76 x 76 cm | SOLD
https://kochxbos.com/112/records/938/_cache/1600w/2859.jpg,https://kochxbos.com/112/records/938/_cache/1200w/2859.jpg,https://kochxbos.com/112/records/938/_cache/640w/2859.jpg,https://kochxbos.com/112/records/938/_cache/280w/2859.jpg,Ray Caesar 'Bound' | 2015 | Digital Ultrachrome on Archival Paper | 76 x 76 cm | SOLD
https://kochxbos.com/112/records/937/_cache/1600w/2853.jpg,https://kochxbos.com/112/records/937/_cache/1200w/2853.jpg,https://kochxbos.com/112/records/937/_cache/640w/2853.jpg,https://kochxbos.com/112/records/937/_cache/280w/2853.jpg,Ray Caesar 'Worldtraveler' | 2016 | Digital Ultrachrome on Archival Paper | 76 x 92 cm | <a href=../218/?form_112.replyids=937>ASK FOR PRICE</a>
https://kochxbos.com/112/records/935/_cache/1600w/Caesar_keepsake_1600px.jpg,https://kochxbos.com/112/records/935/_cache/1200w/Caesar_keepsake_1600px.jpg,https://kochxbos.com/112/records/935/_cache/640w/Caesar_keepsake_1600px.jpg,https://kochxbos.com/112/records/935/_cache/280w/Caesar_keepsake_1600px.jpg,Ray Caesar 'Keepsake' | 2016 | Digital Ultrachrome on Archival Paper | 41 x 51 cm | <a href=../218/?form_112.replyids=935>ASK FOR PRICE</a>
https://kochxbos.com/112/records/930/_cache/1600w/Caesar-Madame-R-Framed.jpg,https://kochxbos.com/112/records/930/_cache/1200w/Caesar-Madame-R-Framed.jpg,https://kochxbos.com/112/records/930/_cache/640w/Caesar-Madame-R-Framed.jpg,https://kochxbos.com/112/records/930/_cache/280w/Caesar-Madame-R-Framed.jpg,Ray Caesar 'Madame R' | 2015 | Digital Ultrachrome on Archival Paper | 102 x 76 cm | <a href=../218/?form_112.replyids=930>ASK FOR PRICE</a>
https://kochxbos.com/112/records/932/_cache/1600w/2854.jpg,https://kochxbos.com/112/records/932/_cache/1200w/2854.jpg,https://kochxbos.com/112/records/932/_cache/640w/2854.jpg,https://kochxbos.com/112/records/932/_cache/280w/2854.jpg,Ray Caesar 'The Nature of Gravity' | 2016 | Digital Ultrachrome on Archival Paper | 76 x 76 cm | <a href=../218/?form_112.replyids=932>ASK FOR PRICE</a>

https://kochxbos.com/112/records/903/_cache/1600w/2746.jpg,https://kochxbos.com/112/records/903/_cache/1200w/2746.jpg,https://kochxbos.com/112/records/903/_cache/640w/2746.jpg,https://kochxbos.com/112/records/903/_cache/280w/2746.jpg,Ray Caesar ' Royale ' | 0 | Digital Ultrachrome on Archival Paper | 24 x 24 inch | SOLD
https://kochxbos.com/112/records/903/_cache/1600w/2746.jpg,https://kochxbos.com/112/records/903/_cache/1200w/2746.jpg,https://kochxbos.com/112/records/903/_cache/640w/2746.jpg,https://kochxbos.com/112/records/903/_cache/280w/2746.jpg,Ray Caesar 'Royale' | 0 | Digital Ultrachrome on Archival Paper | 24 x 24 inch | SOLD
https://kochxbos.com/112/records/912/_cache/1600w/2758.jpg,https://kochxbos.com/112/records/912/_cache/1200w/2758.jpg,https://kochxbos.com/112/records/912/_cache/640w/2758.jpg,https://kochxbos.com/112/records/912/_cache/280w/2758.jpg,Ray Caesar ' The Sporting Life ' | 0 | Mixed Media on wood panel |  20x24 inch | SOLD
https://kochxbos.com/112/records/912/_cache/1600w/2758.jpg,https://kochxbos.com/112/records/912/_cache/1200w/2758.jpg,https://kochxbos.com/112/records/912/_cache/640w/2758.jpg,https://kochxbos.com/112/records/912/_cache/280w/2758.jpg,Ray Caesar 'The Sporting Life' | 0 | Mixed Media on wood panel |  20x24 inch | SOLD
https://kochxbos.com/112/records/906/_cache/1600w/2749.jpg,https://kochxbos.com/112/records/906/_cache/1200w/2749.jpg,https://kochxbos.com/112/records/906/_cache/640w/2749.jpg,https://kochxbos.com/112/records/906/_cache/280w/2749.jpg,Ray Caesar ' THE NATURE OF GRAVITY ' | 0 | 3d digital art / Utrachrome Ink on Paper | 30 x 30 inch | SOLD
https://kochxbos.com/112/records/906/_cache/1600w/2749.jpg,https://kochxbos.com/112/records/906/_cache/1200w/2749.jpg,https://kochxbos.com/112/records/906/_cache/640w/2749.jpg,https://kochxbos.com/112/records/906/_cache/280w/2749.jpg,Ray Caesar 'THE NATURE OF GRAVITY' | 0 | 3d digital art / Utrachrome Ink on Paper | 30 x 30 inch | SOLD
https://kochxbos.com/112/records/911/_cache/1600w/2756.jpg,https://kochxbos.com/112/records/911/_cache/1200w/2756.jpg,https://kochxbos.com/112/records/911/_cache/640w/2756.jpg,https://kochxbos.com/112/records/911/_cache/280w/2756.jpg,Ray Caesar ' The Crucible ' | 0 | 3d digital art / Utrachrome Ink on Paper | 16 x 16 inch | SOLD
https://kochxbos.com/112/records/911/_cache/1600w/2756.jpg,https://kochxbos.com/112/records/911/_cache/1200w/2756.jpg,https://kochxbos.com/112/records/911/_cache/640w/2756.jpg,https://kochxbos.com/112/records/911/_cache/280w/2756.jpg,Ray Caesar 'The Crucible' | 0 | 3d digital art / Utrachrome Ink on Paper | 16 x 16 inch | SOLD
https://kochxbos.com/112/records/907/_cache/1600w/2750.jpg,https://kochxbos.com/112/records/907/_cache/1200w/2750.jpg,https://kochxbos.com/112/records/907/_cache/640w/2750.jpg,https://kochxbos.com/112/records/907/_cache/280w/2750.jpg,Ray Caesar 'Song For The Dearly Departed' | 2017 | 3D digital art / Utrachrome Ink on Paper | 24 x 24 inch | <a href=../218/?form_112.replyids=907>ASK FOR PRICE</a>
https://kochxbos.com/112/records/904/_cache/1600w/2747.jpg,https://kochxbos.com/112/records/904/_cache/1200w/2747.jpg,https://kochxbos.com/112/records/904/_cache/640w/2747.jpg,https://kochxbos.com/112/records/904/_cache/280w/2747.jpg,Ray Caesar ' Girl in A Red Chaperone ' | 0 | 3d digital art / Utrachrome Ink on Paper | 16 x 20 inch | SOLD
https://kochxbos.com/112/records/904/_cache/1600w/2747.jpg,https://kochxbos.com/112/records/904/_cache/1200w/2747.jpg,https://kochxbos.com/112/records/904/_cache/640w/2747.jpg,https://kochxbos.com/112/records/904/_cache/280w/2747.jpg,Ray Caesar 'Girl in A Red Chaperone' | 0 | 3d digital art / Utrachrome Ink on Paper | 16 x 20 inch | SOLD
https://kochxbos.com/112/records/905/_cache/1600w/2748.jpg,https://kochxbos.com/112/records/905/_cache/1200w/2748.jpg,https://kochxbos.com/112/records/905/_cache/640w/2748.jpg,https://kochxbos.com/112/records/905/_cache/280w/2748.jpg,Ray Caesar 'Old wounds' | 2016 | Digital Ultrachrome on Archival Paper | 61 x 61 cm | <a href=../218/?form_112.replyids=905>ASK FOR PRICE</a>
https://kochxbos.com/112/records/910/_cache/1600w/2753.jpg,https://kochxbos.com/112/records/910/_cache/1200w/2753.jpg,https://kochxbos.com/112/records/910/_cache/640w/2753.jpg,https://kochxbos.com/112/records/910/_cache/280w/2753.jpg,Ray Caesar ' Keeping Secrets ' | 0 | 3d digital art / Utrachrome Ink on Paper | 30 x 38 inch | SOLD
https://kochxbos.com/112/records/910/_cache/1600w/2753.jpg,https://kochxbos.com/112/records/910/_cache/1200w/2753.jpg,https://kochxbos.com/112/records/910/_cache/640w/2753.jpg,https://kochxbos.com/112/records/910/_cache/280w/2753.jpg,Ray Caesar 'Keeping Secrets' | 0 | 3d digital art / Utrachrome Ink on Paper | 30 x 38 inch | SOLD
https://kochxbos.com/112/records/909/_cache/1600w/2752.jpg,https://kochxbos.com/112/records/909/_cache/1200w/2752.jpg,https://kochxbos.com/112/records/909/_cache/640w/2752.jpg,https://kochxbos.com/112/records/909/_cache/280w/2752.jpg,Ray Caesar ' The Collector ' | 0 | 3d digital art / Utrachrome Ink on Paper |  30 x 40 inch | SOLD
https://kochxbos.com/112/records/909/_cache/1600w/2752.jpg,https://kochxbos.com/112/records/909/_cache/1200w/2752.jpg,https://kochxbos.com/112/records/909/_cache/640w/2752.jpg,https://kochxbos.com/112/records/909/_cache/280w/2752.jpg,Ray Caesar 'The Collector' | 0 | 3d digital art / Utrachrome Ink on Paper |  30 x 40 inch | SOLD
https://kochxbos.com/112/records/908/_cache/1600w/2751.jpg,https://kochxbos.com/112/records/908/_cache/1200w/2751.jpg,https://kochxbos.com/112/records/908/_cache/640w/2751.jpg,https://kochxbos.com/112/records/908/_cache/280w/2751.jpg,Ray Caesar 'World Traveler' | 0 | 3d digital art / Utrachrome Ink on Paper | 30 x 40 inch | <a href=../218/?form_112.replyids=908>ASK FOR PRICE</a>

https://kochxbos.com/112/records/718/_cache/1600w/2241.jpg,https://kochxbos.com/112/records/718/_cache/1200w/2241.jpg,https://kochxbos.com/112/records/718/_cache/640w/2241.jpg,https://kochxbos.com/112/records/718/_cache/280w/2241.jpg,Ray Caesar 'Aria' | 0 |  |  | <a href=../218/?form_112.replyids=718>ASK FOR PRICE</a>
https://kochxbos.com/112/records/720/_cache/1600w/2243.jpg,https://kochxbos.com/112/records/720/_cache/1200w/2243.jpg,https://kochxbos.com/112/records/720/_cache/640w/2243.jpg,https://kochxbos.com/112/records/720/_cache/280w/2243.jpg,Ray Caesar ' La Chasse DEF ' | 0 |  |  | SOLD
https://kochxbos.com/112/records/716/_cache/1600w/2240.jpg,https://kochxbos.com/112/records/716/_cache/1200w/2240.jpg,https://kochxbos.com/112/records/716/_cache/640w/2240.jpg,https://kochxbos.com/112/records/716/_cache/280w/2240.jpg,Ray Caesar 'Sweet 18' | 0 |  |  | SOLD
https://kochxbos.com/112/records/717/_cache/1600w/2239.jpg,https://kochxbos.com/112/records/717/_cache/1200w/2239.jpg,https://kochxbos.com/112/records/717/_cache/640w/2239.jpg,https://kochxbos.com/112/records/717/_cache/280w/2239.jpg,Ray Caesar 'The Interval' | 0 |  |  | SOLD
https://kochxbos.com/112/records/719/_cache/1600w/2242.jpg,https://kochxbos.com/112/records/719/_cache/1200w/2242.jpg,https://kochxbos.com/112/records/719/_cache/640w/2242.jpg,https://kochxbos.com/112/records/719/_cache/280w/2242.jpg,Ray Caesar 'Day Trip' | 0 |  |  | <a href=../218/?form_112.replyids=719>ASK FOR PRICE</a>
https://kochxbos.com/112/records/720/_cache/1600w/2243.jpg,https://kochxbos.com/112/records/720/_cache/1200w/2243.jpg,https://kochxbos.com/112/records/720/_cache/640w/2243.jpg,https://kochxbos.com/112/records/720/_cache/280w/2243.jpg,Ray Caesar 'La Chasse DEF' | 0 |  |  | SOLD
https://kochxbos.com/112/records/360/_cache/1600w/Caesar-Day-Trip-Framed-passe-partout-SMALL--IMG_0356-CMYK.jpg,https://kochxbos.com/112/records/360/_cache/1200w/Caesar-Day-Trip-Framed-passe-partout-SMALL--IMG_0356-CMYK.jpg,https://kochxbos.com/112/records/360/_cache/640w/Caesar-Day-Trip-Framed-passe-partout-SMALL--IMG_0356-CMYK.jpg,https://kochxbos.com/112/records/360/_cache/280w/Caesar-Day-Trip-Framed-passe-partout-SMALL--IMG_0356-CMYK.jpg,Ray Caesar 'Day Trip' | 2012 | 3D digital art / Utrachrome Ink on Paper | 91 x 61 cm | <a href=../218/?form_112.replyids=360>ASK FOR PRICE</a>

https://kochxbos.com/112/records/593/_cache/1600w/1720.jpg,https://kochxbos.com/112/records/593/_cache/1200w/1720.jpg,https://kochxbos.com/112/records/593/_cache/640w/1720.jpg,https://kochxbos.com/112/records/593/_cache/280w/1720.jpg,Ray Caesar 'The Collector' | 2013 | 3D digital art | 101x76 | SOLD
https://kochxbos.com/112/records/594/_cache/1600w/1726.jpg,https://kochxbos.com/112/records/594/_cache/1200w/1726.jpg,https://kochxbos.com/112/records/594/_cache/640w/1726.jpg,https://kochxbos.com/112/records/594/_cache/280w/1726.jpg,Ray Caesar 'Fallen' | 2013 | 3D digital art | 102x76 | SOLD
https://kochxbos.com/112/records/595/_cache/1600w/1721.jpg,https://kochxbos.com/112/records/595/_cache/1200w/1721.jpg,https://kochxbos.com/112/records/595/_cache/640w/1721.jpg,https://kochxbos.com/112/records/595/_cache/280w/1721.jpg,Ray Caesar 'Mother and Child' | 2013 | 3D digital art | 107x71 & 183x122 | SOLD
https://kochxbos.com/112/records/596/_cache/1600w/1722.jpg,https://kochxbos.com/112/records/596/_cache/1200w/1722.jpg,https://kochxbos.com/112/records/596/_cache/640w/1722.jpg,https://kochxbos.com/112/records/596/_cache/280w/1722.jpg,Ray Caesar 'Dark Guardian' | 2013 | 3D digital art | 31x31 | SOLD
https://kochxbos.com/112/records/597/_cache/1600w/1723.jpg,https://kochxbos.com/112/records/597/_cache/1200w/1723.jpg,https://kochxbos.com/112/records/597/_cache/640w/1723.jpg,https://kochxbos.com/112/records/597/_cache/280w/1723.jpg,Ray Caesar 'Fallen Study' | 2013 | 3d | 38x38 | SOLD
https://kochxbos.com/112/records/598/_cache/1600w/1724.jpg,https://kochxbos.com/112/records/598/_cache/1200w/1724.jpg,https://kochxbos.com/112/records/598/_cache/640w/1724.jpg,https://kochxbos.com/112/records/598/_cache/280w/1724.jpg,Ray Caesar 'Mother and Child Study' | 2013 | 3D digital art | 61 x 61 cm | SOLD
https://kochxbos.com/112/records/599/_cache/1600w/1725.jpg,https://kochxbos.com/112/records/599/_cache/1200w/1725.jpg,https://kochxbos.com/112/records/599/_cache/640w/1725.jpg,https://kochxbos.com/112/records/599/_cache/280w/1725.jpg,Ray Caesar 'Winter Study' | 2013 | 3D digital art | 61 x 61 cm | SOLD

https://kochxbos.com/112/records/370/_cache/1600w/415.jpg,https://kochxbos.com/112/records/370/_cache/1200w/415.jpg,https://kochxbos.com/112/records/370/_cache/640w/415.jpg,https://kochxbos.com/112/records/370/_cache/280w/415.jpg,Ray Caesar 'We Three Kings' | 2012 | 3D digital art / Utrachrome Ink on Paper | 76 x 76 cm | <a href=../218/?form_112.replyids=370>ASK FOR PRICE</a>
https://kochxbos.com/112/records/720/_cache/1600w/2243.jpg,https://kochxbos.com/112/records/720/_cache/1200w/2243.jpg,https://kochxbos.com/112/records/720/_cache/640w/2243.jpg,https://kochxbos.com/112/records/720/_cache/280w/2243.jpg,Ray Caesar ' La Chasse DEF ' | 0 |  |  | SOLD
https://kochxbos.com/112/records/369/_cache/1600w/412.jpg,https://kochxbos.com/112/records/369/_cache/1200w/412.jpg,https://kochxbos.com/112/records/369/_cache/640w/412.jpg,https://kochxbos.com/112/records/369/_cache/280w/412.jpg,Ray Caesar 'The Manager' | 2012 | 3D digital art / Utrachrome Ink on Paper | 61 x 92 cm | SOLD
https://kochxbos.com/112/records/368/_cache/1600w/1024.jpg,https://kochxbos.com/112/records/368/_cache/1200w/1024.jpg,https://kochxbos.com/112/records/368/_cache/640w/1024.jpg,https://kochxbos.com/112/records/368/_cache/280w/1024.jpg,Ray Caesar 'The Gift of Time' | 2012 | 3D digital art / Utrachrome Ink on Paper | 36 x 102 cm | SOLD
https://kochxbos.com/112/records/367/_cache/1600w/1023.jpg,https://kochxbos.com/112/records/367/_cache/1200w/1023.jpg,https://kochxbos.com/112/records/367/_cache/640w/1023.jpg,https://kochxbos.com/112/records/367/_cache/280w/1023.jpg,Ray Caesar 'The Gift of Love' | 2012 | 3D digital art / Utrachrome Ink on Paper | 36 x 102 cm | SOLD
https://kochxbos.com/112/records/366/_cache/1600w/1022.jpg,https://kochxbos.com/112/records/366/_cache/1200w/1022.jpg,https://kochxbos.com/112/records/366/_cache/640w/1022.jpg,https://kochxbos.com/112/records/366/_cache/280w/1022.jpg,Ray Caesar 'The Gift of Joy' | 2012 | 3D digital art / Utrachrome Ink on Paper | 36 x 102 cm | SOLD
https://kochxbos.com/112/records/365/_cache/1600w/408.jpg,https://kochxbos.com/112/records/365/_cache/1200w/408.jpg,https://kochxbos.com/112/records/365/_cache/640w/408.jpg,https://kochxbos.com/112/records/365/_cache/280w/408.jpg,Ray Caesar 'Tea with Me and He' | 2012 | 3D digital art / Utrachrome Ink on Paper | 120 x 76 cm | SOLD
https://kochxbos.com/112/records/357/_cache/1600w/413.jpg,https://kochxbos.com/112/records/357/_cache/1200w/413.jpg,https://kochxbos.com/112/records/357/_cache/640w/413.jpg,https://kochxbos.com/112/records/357/_cache/280w/413.jpg,Ray Caesar 'La Chasse' | 2011 | 3D digital art / Utrachrome Ink on Paper | 122 x 122 cm | SOLD
https://kochxbos.com/112/records/364/_cache/1600w/401.jpg,https://kochxbos.com/112/records/364/_cache/1200w/401.jpg,https://kochxbos.com/112/records/364/_cache/640w/401.jpg,https://kochxbos.com/112/records/364/_cache/280w/401.jpg,Ray Caesar 'Private Affair' | 2012 | 3D digital art / Utrachrome Ink on Paper | 51 x 92 cm | SOLD
https://kochxbos.com/112/records/362/_cache/1600w/403.jpg,https://kochxbos.com/112/records/362/_cache/1200w/403.jpg,https://kochxbos.com/112/records/362/_cache/640w/403.jpg,https://kochxbos.com/112/records/362/_cache/280w/403.jpg,Ray Caesar 'The Interval' | 2012 | 3D digital art / Utrachrome Ink on Paper | 61 x 51 cm | SOLD
https://kochxbos.com/112/records/359/_cache/1600w/406.jpg,https://kochxbos.com/112/records/359/_cache/1200w/406.jpg,https://kochxbos.com/112/records/359/_cache/640w/406.jpg,https://kochxbos.com/112/records/359/_cache/280w/406.jpg,Ray Caesar 'Siren' | 2011 | 3D digital art / Utrachrome Ink on Paper | 122 x 122 cm | SOLD
https://kochxbos.com/112/records/1733/_cache/1600w/caesar_returnsoftheday.png,https://kochxbos.com/112/records/1733/_cache/1200w/caesar_returnsoftheday.png,https://kochxbos.com/112/records/1733/_cache/640w/caesar_returnsoftheday.png,https://kochxbos.com/112/records/1733/_cache/280w/caesar_returnsoftheday.png,Ray Caesar 'Returns of the Day' | 2009 | 3D digital art / Utrachrome Ink on Paper | 91 x 91 cm | € 7900 <a href=../217/?form_112.replyids=1733>FOR SALE</a>
https://kochxbos.com/112/records/358/_cache/1600w/417.jpg,https://kochxbos.com/112/records/358/_cache/1200w/417.jpg,https://kochxbos.com/112/records/358/_cache/640w/417.jpg,https://kochxbos.com/112/records/358/_cache/280w/417.jpg,Ray Caesar 'Night Call Study' | 2011 | 3D digital art / Utrachrome Ink on Paper | 76 x 76 cm | SOLD
https://kochxbos.com/112/records/352/_cache/1600w/420.jpg,https://kochxbos.com/112/records/352/_cache/1200w/420.jpg,https://kochxbos.com/112/records/352/_cache/640w/420.jpg,https://kochxbos.com/112/records/352/_cache/280w/420.jpg,Ray Caesar ' Calamity ' | 2011 | 3D digital art / Utrachrome Ink on Paper | 107 x 71 cm | SOLD
https://kochxbos.com/112/records/352/_cache/1600w/420.jpg,https://kochxbos.com/112/records/352/_cache/1200w/420.jpg,https://kochxbos.com/112/records/352/_cache/640w/420.jpg,https://kochxbos.com/112/records/352/_cache/280w/420.jpg,Ray Caesar 'Calamity' | 2011 | 3D digital art / Utrachrome Ink on Paper | 107 x 71 cm | SOLD
https://kochxbos.com/112/records/353/_cache/1600w/419.jpg,https://kochxbos.com/112/records/353/_cache/1200w/419.jpg,https://kochxbos.com/112/records/353/_cache/640w/419.jpg,https://kochxbos.com/112/records/353/_cache/280w/419.jpg,Ray Caesar 'Impromptu' | 2011 | 3D digital art / Utrachrome Ink on Paper | 76 x 102 cm | SOLD
https://kochxbos.com/112/records/354/_cache/1600w/416.jpg,https://kochxbos.com/112/records/354/_cache/1200w/416.jpg,https://kochxbos.com/112/records/354/_cache/640w/416.jpg,https://kochxbos.com/112/records/354/_cache/280w/416.jpg,Ray Caesar 'Fading Away' | 2011 | 3D digital art / Utrachrome Ink on Paper | 76 x 76 cm | SOLD
https://kochxbos.com/112/records/355/_cache/1600w/404.jpg,https://kochxbos.com/112/records/355/_cache/1200w/404.jpg,https://kochxbos.com/112/records/355/_cache/640w/404.jpg,https://kochxbos.com/112/records/355/_cache/280w/404.jpg,Ray Caesar 'La Chambre' | 2011 | 3D digital art / Utrachrome Ink on Paper | 76 x 76 cm | SOLD
https://kochxbos.com/112/records/356/_cache/1600w/405.jpg,https://kochxbos.com/112/records/356/_cache/1200w/405.jpg,https://kochxbos.com/112/records/356/_cache/640w/405.jpg,https://kochxbos.com/112/records/356/_cache/280w/405.jpg,Ray Caesar 'La Chambre Study' | 2011 | 3D digital art / Utrachrome Ink on Paper | 76 x 76 | SOLD
https://kochxbos.com/112/records/360/_cache/1600w/Caesar-Day-Trip-Framed-passe-partout-SMALL--IMG_0356-CMYK.jpg,https://kochxbos.com/112/records/360/_cache/1200w/Caesar-Day-Trip-Framed-passe-partout-SMALL--IMG_0356-CMYK.jpg,https://kochxbos.com/112/records/360/_cache/640w/Caesar-Day-Trip-Framed-passe-partout-SMALL--IMG_0356-CMYK.jpg,https://kochxbos.com/112/records/360/_cache/280w/Caesar-Day-Trip-Framed-passe-partout-SMALL--IMG_0356-CMYK.jpg,Ray Caesar 'Day Trip' | 2012 | 3D digital art / Utrachrome Ink on Paper | 91 x 61 cm | <a href=../218/?form_112.replyids=360>ASK FOR PRICE</a>

https://kochxbos.com/112/records/351/_cache/1600w/1049.jpg,https://kochxbos.com/112/records/351/_cache/1200w/1049.jpg,https://kochxbos.com/112/records/351/_cache/640w/1049.jpg,https://kochxbos.com/112/records/351/_cache/280w/1049.jpg,Ray Caesar ' Ancient Memory ' | 2011 | Framed / 3D digital art / Utrachrome Ink on Paper | 76 x 76 cm | SOLD
https://kochxbos.com/112/records/2114/_cache/1600w/RayCaesar_Pollux.jpg,https://kochxbos.com/112/records/2114/_cache/1200w/RayCaesar_Pollux.jpg,https://kochxbos.com/112/records/2114/_cache/640w/RayCaesar_Pollux.jpg,https://kochxbos.com/112/records/2114/_cache/280w/RayCaesar_Pollux.jpg,Ray Caesar ' Pollux ' | 2011 | Framed / 3D digital art / Utrachrome Ink on Paper | 76 x 76 cm | SOLD
https://kochxbos.com/112/records/2115/_cache/1600w/RayCaesar_Castor.jpg,https://kochxbos.com/112/records/2115/_cache/1200w/RayCaesar_Castor.jpg,https://kochxbos.com/112/records/2115/_cache/640w/RayCaesar_Castor.jpg,https://kochxbos.com/112/records/2115/_cache/280w/RayCaesar_Castor.jpg,Ray Caesar 'Castor' | 2011 | Framed / 3D digital art / Utrachrome Ink on Paper | 76 x 76 cm | <a href=../218/?form_112.replyids=2115>ASK FOR PRICE</a>
https://kochxbos.com/112/records/351/_cache/1600w/1049.jpg,https://kochxbos.com/112/records/351/_cache/1200w/1049.jpg,https://kochxbos.com/112/records/351/_cache/640w/1049.jpg,https://kochxbos.com/112/records/351/_cache/280w/1049.jpg,Ray Caesar 'Ancient Memory' | 2011 | Framed / 3D digital art / Utrachrome Ink on Paper | 76 x 76 cm | SOLD
https://kochxbos.com/112/records/361/_cache/1600w/421.jpg,https://kochxbos.com/112/records/361/_cache/1200w/421.jpg,https://kochxbos.com/112/records/361/_cache/640w/421.jpg,https://kochxbos.com/112/records/361/_cache/280w/421.jpg,Ray Caesar 'Homecoming' | 2012 | 3D digital art / Utrachrome Ink on Paper | Sold out. | SOLD
https://kochxbos.com/112/records/363/_cache/1600w/1047.jpg,https://kochxbos.com/112/records/363/_cache/1200w/1047.jpg,https://kochxbos.com/112/records/363/_cache/640w/1047.jpg,https://kochxbos.com/112/records/363/_cache/280w/1047.jpg,Ray Caesar 'Words of Wisdom' | 2012 | 3D digital art / Utrachrome Ink on Paper | 106 x 60 cm | SOLD
https://kochxbos.com/112/records/350/_cache/1600w/1050.jpg,https://kochxbos.com/112/records/350/_cache/1200w/1050.jpg,https://kochxbos.com/112/records/350/_cache/640w/1050.jpg,https://kochxbos.com/112/records/350/_cache/280w/1050.jpg,Ray Caesar 'Arabesque' | 2009 | Digital Ultrachrome on Archival Paper | 102 x 76 cm | <a href=../218/?form_112.replyids=350>ASK FOR PRICE</a>

https://kochxbos.com/112/records/330/_cache/1600w/435.jpg,https://kochxbos.com/112/records/330/_cache/1200w/435.jpg,https://kochxbos.com/112/records/330/_cache/640w/435.jpg,https://kochxbos.com/112/records/330/_cache/280w/435.jpg,Ray Caesar ' Healing Light ' | 2003 | 3D digital art / Utrachrome Ink on Paper | 61 x 46 cm | SOLD
https://kochxbos.com/112/records/331/_cache/1600w/443.jpg,https://kochxbos.com/112/records/331/_cache/1200w/443.jpg,https://kochxbos.com/112/records/331/_cache/640w/443.jpg,https://kochxbos.com/112/records/331/_cache/280w/443.jpg,Ray Caesar ' Companion Study ' | 2003 | 3D digital art / Utrachrome Ink on Paper | 31 x 31 cm | SOLD
https://kochxbos.com/112/records/332/_cache/1600w/433.jpg,https://kochxbos.com/112/records/332/_cache/1200w/433.jpg,https://kochxbos.com/112/records/332/_cache/640w/433.jpg,https://kochxbos.com/112/records/332/_cache/280w/433.jpg,Ray Caesar ' Messenger ' | 2003 | 3D digital art / Utrachrome Ink on Paper | 46 x 71 cm | SOLD
https://kochxbos.com/112/records/333/_cache/1600w/439.jpg,https://kochxbos.com/112/records/333/_cache/1200w/439.jpg,https://kochxbos.com/112/records/333/_cache/640w/439.jpg,https://kochxbos.com/112/records/333/_cache/280w/439.jpg,Ray Caesar ' Messenger Study ' | 2003 | 3D digital art / Utrachrome Ink on Paper | 26 x 36 cm | SOLD
https://kochxbos.com/112/records/334/_cache/1600w/429.jpg,https://kochxbos.com/112/records/334/_cache/1200w/429.jpg,https://kochxbos.com/112/records/334/_cache/640w/429.jpg,https://kochxbos.com/112/records/334/_cache/280w/429.jpg,Ray Caesar ' Bubbles ' | 2004 | 3D digital art / Utrachrome Ink on Paper | 61 x 46 cm | SOLD
https://kochxbos.com/112/records/335/_cache/1600w/434.jpg,https://kochxbos.com/112/records/335/_cache/1200w/434.jpg,https://kochxbos.com/112/records/335/_cache/640w/434.jpg,https://kochxbos.com/112/records/335/_cache/280w/434.jpg,Ray Caesar ' Prince of Truth ' | 2004 | 3D digital art / Utrachrome Ink on Paper | 41 x 41 cm | SOLD
https://kochxbos.com/112/records/336/_cache/1600w/444.jpg,https://kochxbos.com/112/records/336/_cache/1200w/444.jpg,https://kochxbos.com/112/records/336/_cache/640w/444.jpg,https://kochxbos.com/112/records/336/_cache/280w/444.jpg,Ray Caesar ' Angel of Innocent Things ' | 2005 | 3D digital art / Utrachrome Ink on Paper | 41 x 56 cm | SOLD
https://kochxbos.com/112/records/337/_cache/1600w/426.jpg,https://kochxbos.com/112/records/337/_cache/1200w/426.jpg,https://kochxbos.com/112/records/337/_cache/640w/426.jpg,https://kochxbos.com/112/records/337/_cache/280w/426.jpg,Ray Caesar ' Exodus Study ' | 2005 | 3D digital art / Utrachrome Ink on Paper | 31 x 31 cm | SOLD
https://kochxbos.com/112/records/338/_cache/1600w/446.jpg,https://kochxbos.com/112/records/338/_cache/1200w/446.jpg,https://kochxbos.com/112/records/338/_cache/640w/446.jpg,https://kochxbos.com/112/records/338/_cache/280w/446.jpg,Ray Caesar ' Hall of Ages ' | 2005 | 3D digital art / Utrachrome Ink on Paper | 46 x 72 cm | SOLD
https://kochxbos.com/112/records/339/_cache/1600w/447.jpg,https://kochxbos.com/112/records/339/_cache/1200w/447.jpg,https://kochxbos.com/112/records/339/_cache/640w/447.jpg,https://kochxbos.com/112/records/339/_cache/280w/447.jpg,Ray Caesar ' Tattle Tail ' | 2005 | 3D digital art / Utrachrome Ink on Paper | 51 x 66 cm | SOLD
https://kochxbos.com/112/records/340/_cache/1600w/436.jpg,https://kochxbos.com/112/records/340/_cache/1200w/436.jpg,https://kochxbos.com/112/records/340/_cache/640w/436.jpg,https://kochxbos.com/112/records/340/_cache/280w/436.jpg,Ray Caesar 'Castor' | 2005 | 3D digital art / Utrachrome Ink on Paper | 56 x 56 cm | <a href=../218/?form_112.replyids=340>ASK FOR PRICE</a>
https://kochxbos.com/112/records/341/_cache/1600w/427.jpg,https://kochxbos.com/112/records/341/_cache/1200w/427.jpg,https://kochxbos.com/112/records/341/_cache/640w/427.jpg,https://kochxbos.com/112/records/341/_cache/280w/427.jpg,Ray Caesar ' Exodus ' | 2005 | 3D digital art / Utrachrome Ink on Paper | 55 x 46 cm | SOLD
https://kochxbos.com/112/records/342/_cache/1600w/424.jpg,https://kochxbos.com/112/records/342/_cache/1200w/424.jpg,https://kochxbos.com/112/records/342/_cache/640w/424.jpg,https://kochxbos.com/112/records/342/_cache/280w/424.jpg,Ray Caesar ' Foreign Tongue ' | 2005 | 3D digital art / Utrachrome Ink on Paper | 31 x 31 cm | SOLD
https://kochxbos.com/112/records/343/_cache/1600w/445.jpg,https://kochxbos.com/112/records/343/_cache/1200w/445.jpg,https://kochxbos.com/112/records/343/_cache/640w/445.jpg,https://kochxbos.com/112/records/343/_cache/280w/445.jpg,Ray Caesar ' Guardian Study ' | 2005 | 3D digital art / Utrachrome Ink on Paper | 21 x 26 cm | SOLD
https://kochxbos.com/112/records/344/_cache/1600w/428.jpg,https://kochxbos.com/112/records/344/_cache/1200w/428.jpg,https://kochxbos.com/112/records/344/_cache/640w/428.jpg,https://kochxbos.com/112/records/344/_cache/280w/428.jpg,Ray Caesar ' Hall of Ages Study ' | 2005 | 3D digital art / Utrachrome Ink on Paper | 36 x 36 cm | SOLD
https://kochxbos.com/112/records/345/_cache/1600w/430.jpg,https://kochxbos.com/112/records/345/_cache/1200w/430.jpg,https://kochxbos.com/112/records/345/_cache/640w/430.jpg,https://kochxbos.com/112/records/345/_cache/280w/430.jpg,Ray Caesar ' Kitty Kat Study ' | 2005 | 3D digital art / Utrachrome Ink on Paper | 38 x 38 cm | SOLD
https://kochxbos.com/112/records/347/_cache/1600w/PowerandGlory.jpg,https://kochxbos.com/112/records/347/_cache/1200w/PowerandGlory.jpg,https://kochxbos.com/112/records/347/_cache/640w/PowerandGlory.jpg,https://kochxbos.com/112/records/347/_cache/280w/PowerandGlory.jpg,Ray Caesar ' Power and Glory ' | 2005 | 3D digital art / Utrachrome Ink on Paper | 61 x 46 cm | SOLD
https://kochxbos.com/112/records/330/_cache/1600w/435.jpg,https://kochxbos.com/112/records/330/_cache/1200w/435.jpg,https://kochxbos.com/112/records/330/_cache/640w/435.jpg,https://kochxbos.com/112/records/330/_cache/280w/435.jpg,Ray Caesar 'Healing Light' | 2003 | 3D digital art / Utrachrome Ink on Paper | 61 x 46 cm | SOLD
https://kochxbos.com/112/records/331/_cache/1600w/443.jpg,https://kochxbos.com/112/records/331/_cache/1200w/443.jpg,https://kochxbos.com/112/records/331/_cache/640w/443.jpg,https://kochxbos.com/112/records/331/_cache/280w/443.jpg,Ray Caesar 'Companion Study' | 2003 | 3D digital art / Utrachrome Ink on Paper | 31 x 31 cm | SOLD
https://kochxbos.com/112/records/332/_cache/1600w/433.jpg,https://kochxbos.com/112/records/332/_cache/1200w/433.jpg,https://kochxbos.com/112/records/332/_cache/640w/433.jpg,https://kochxbos.com/112/records/332/_cache/280w/433.jpg,Ray Caesar 'Messenger' | 2003 | 3D digital art / Utrachrome Ink on Paper | 46 x 71 cm | SOLD
https://kochxbos.com/112/records/333/_cache/1600w/439.jpg,https://kochxbos.com/112/records/333/_cache/1200w/439.jpg,https://kochxbos.com/112/records/333/_cache/640w/439.jpg,https://kochxbos.com/112/records/333/_cache/280w/439.jpg,Ray Caesar 'Messenger Study' | 2003 | 3D digital art / Utrachrome Ink on Paper | 26 x 36 cm | SOLD
https://kochxbos.com/112/records/334/_cache/1600w/429.jpg,https://kochxbos.com/112/records/334/_cache/1200w/429.jpg,https://kochxbos.com/112/records/334/_cache/640w/429.jpg,https://kochxbos.com/112/records/334/_cache/280w/429.jpg,Ray Caesar 'Bubbles' | 2004 | 3D digital art / Utrachrome Ink on Paper | 61 x 46 cm | SOLD
https://kochxbos.com/112/records/335/_cache/1600w/434.jpg,https://kochxbos.com/112/records/335/_cache/1200w/434.jpg,https://kochxbos.com/112/records/335/_cache/640w/434.jpg,https://kochxbos.com/112/records/335/_cache/280w/434.jpg,Ray Caesar 'Prince of Truth' | 2004 | 3D digital art / Utrachrome Ink on Paper | 41 x 41 cm | SOLD
https://kochxbos.com/112/records/336/_cache/1600w/444.jpg,https://kochxbos.com/112/records/336/_cache/1200w/444.jpg,https://kochxbos.com/112/records/336/_cache/640w/444.jpg,https://kochxbos.com/112/records/336/_cache/280w/444.jpg,Ray Caesar 'Angel of Innocent Things' | 2005 | 3D digital art / Utrachrome Ink on Paper | 41 x 56 cm | SOLD
https://kochxbos.com/112/records/337/_cache/1600w/426.jpg,https://kochxbos.com/112/records/337/_cache/1200w/426.jpg,https://kochxbos.com/112/records/337/_cache/640w/426.jpg,https://kochxbos.com/112/records/337/_cache/280w/426.jpg,Ray Caesar 'Exodus Study' | 2005 | 3D digital art / Utrachrome Ink on Paper | 31 x 31 cm | SOLD
https://kochxbos.com/112/records/338/_cache/1600w/446.jpg,https://kochxbos.com/112/records/338/_cache/1200w/446.jpg,https://kochxbos.com/112/records/338/_cache/640w/446.jpg,https://kochxbos.com/112/records/338/_cache/280w/446.jpg,Ray Caesar 'Hall of Ages' | 2005 | 3D digital art / Utrachrome Ink on Paper | 46 x 72 cm | SOLD
https://kochxbos.com/112/records/339/_cache/1600w/447.jpg,https://kochxbos.com/112/records/339/_cache/1200w/447.jpg,https://kochxbos.com/112/records/339/_cache/640w/447.jpg,https://kochxbos.com/112/records/339/_cache/280w/447.jpg,Ray Caesar 'Tattle Tail' | 2005 | 3D digital art / Utrachrome Ink on Paper | 51 x 66 cm | SOLD
https://kochxbos.com/112/records/341/_cache/1600w/427.jpg,https://kochxbos.com/112/records/341/_cache/1200w/427.jpg,https://kochxbos.com/112/records/341/_cache/640w/427.jpg,https://kochxbos.com/112/records/341/_cache/280w/427.jpg,Ray Caesar 'Exodus' | 2005 | 3D digital art / Utrachrome Ink on Paper | 55 x 46 cm | SOLD
https://kochxbos.com/112/records/342/_cache/1600w/424.jpg,https://kochxbos.com/112/records/342/_cache/1200w/424.jpg,https://kochxbos.com/112/records/342/_cache/640w/424.jpg,https://kochxbos.com/112/records/342/_cache/280w/424.jpg,Ray Caesar 'Foreign Tongue' | 2005 | 3D digital art / Utrachrome Ink on Paper | 31 x 31 cm | SOLD
https://kochxbos.com/112/records/343/_cache/1600w/445.jpg,https://kochxbos.com/112/records/343/_cache/1200w/445.jpg,https://kochxbos.com/112/records/343/_cache/640w/445.jpg,https://kochxbos.com/112/records/343/_cache/280w/445.jpg,Ray Caesar 'Guardian Study' | 2005 | 3D digital art / Utrachrome Ink on Paper | 21 x 26 cm | SOLD