Power to the People?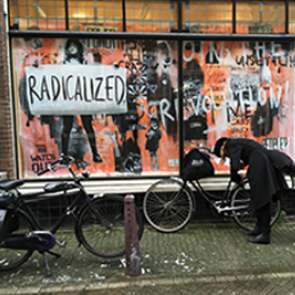 february 2017
#PowerToThePeople? #KeepOneShareOne
We invite you to take part in a radical get together where you can share your positivity and revolutionary ideas in collaboration with Sarah Maple. The gallery will become an inclusive space for debate, creation and interaction between you, your friends and the artist in residence. Bring along your good vibes and wildest ideas.
- - - - - - - - - - - - - - - - - - - - - - - - - - - - - - - - -
Sarah worked two weeks in our gallery, the space turned into a bustling meeting place where many people got together and shared their (revolutionary) ideas.
Through the theme of "Power to the people?" we encouraged interaction between the artist and the visitors, spontaneous creativity, and lively debates that will hopefully lead to a new, positive art movement which we will all be a part of. The various themes of the exhibition we were censorship and freedom of expression ('Read my lips', 'Your opinion is wrong'), the question of nationalism vs. the refugee crisis ('Go Home' and 'England's Glory') as well as sexism and misogyny ('Do not be a Dick with your Dick').